A wish list for Santa Putin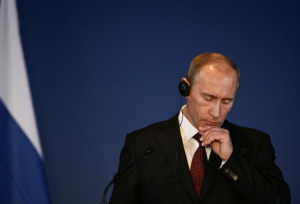 According to one analyst, Prime Minister Vladimir Putin was like "Father Christmas dishing out presents" during his question-and-answer session on Dec. 3, making a raft of promises and pledges to anxious callers. Reviving Russia's single-industry cities and combating terrorism were the main topics at the four-hour-long phone-in session, as Putin tried to calm a nation shaken by the economic crisis and the Nevsky Express bombing. Several recent polls suggest the prime minister's popularity has taken a tumble.
"The peak of the crisis has been overcome ... But the exit from the crisis takes time, strength and no small amount of funds," Putin said at his second call-in session as prime minister. Putin was optimistic about Russia's economic recovery, pointing to the economy's average monthly growth of 0.5 percent in the last five months. Unlike the financial crisis in 1998, Russia now has a much better demographic situation, which is good news for the country's economic recovery, Putin said. Whereas in 1998, the birth rate was falling and the death rate rising, exactly the opposite is the case today. "Birth rates are growing at a record pace, soon to exceed three percent, and death rates are also falling... This has an economic impact, too, because it supports demand," he said. "My main impression today is that Putin is eager to keep citizens thinking that the crisis is almost over," said Nikolai Petrov, an expert on domestic politics at the Carnegie Moscow Center.

During the nationally televised phone-in session Putin was connected to live video feeds from various single-industry towns, or "monogorods," and took questions from congregations of immaculately turned-out factory workers, lined up in neat rows and wearing hard hats. The first city to be video-streamed was Pikalyovo, a cement-producing monogorod in the Leningrad region where Putin is lauded as a savior for his role in settling a managerial squabble that brought all three of the town's factories – and its power station — to a halt, depriving the residents of both jobs and hot water. The first Pikalyovo factory worker to speak began by thanking his great benefactor profusely for having come to the rescue of the monogorod half a year ago, but requested that Putin come again because a similar fight is brewing. Putin replied firmly and unequivocally. "If the situation demands, I will come to you and to any other place in the country. It is my duty," he said.



The prime minister restated his commitment to fighting for Russian industry. Steel producers will be propped up through continued government support for Russia's steel-consuming industries, including its ailing automotive sector. When the video feed was streamed from Togliatti, home of AvtoVaz, Putin stressed his support for the brand and suggested that it might soon attract further foreign investment from Renault.

Out of the 1.5 million questions received three hours before the session began, queries about the terrorist attack on the Nevsky Express were the most numerous, Dmitry Peskov, the prime minister's spokesman, told RIA Novosti in the run-up to the phone-in. The day before the broadcast, a group calling itself the Caucasian Mujahedin, led by Doku Umarov, Russia's most wanted terrorist, claimed responsibility for the bomb attack, which killed 26 people. The authenticity of the claim was impossible to verify, but for Russians it has brought back memories of the appalling terrorist acts of the first half of the decade. Since Putin largely built his reputation on putting an end to these horrors, it was apt that he first answered a question about terrorism.
"We have done a lot to break the back of terrorism, but the threat has not been fully liquidated ... The threat of terrorism remains very high," he said. Nonetheless, the prime minister was quick to rule out the possibility of a war in the North Caucasus, a region where assassinations and terrorism have now become routine. "Do events in Ingushetia, Dagestan and other regions signal the start of a new war in the Caucasus? No. I don't sense any sort of war in the Caucasus. The situation is difficult ... There are still extremist groups. That's a fact, and we will continue to fight them until they are completely extinguished."

Putin also reaffirmed his close working relationship with President Dmitry Medvedev, but again suggested he might run for president in 2012. "I will think about it. There is plenty of time," he said.

Apart from this, much of the four-hour marathon was devoted to specific complaints from Russians. Putin invariably vowed to resolve these quibbles, usually with the promise of money. At one point he reassured a man who complained that his war veteran aunt had been denied the free housing Putin had publicly promised. Not to worry, said the prime minister – it is on its way. "The decision has been taken and it is final. We are allocating the funds for this in 2010," Putin said.

"In general, Putin looked good today. He likes this format and he looks professional. Every time around he is eager to increase the length of the annual session and the number of questions answered," said Petrov. Still, this image-boosting dimension to Putin's phone-ins is nothing new. As Alexei Mukhin, head of the Center for Political Information, put it, "by now people have realized that, with the help of Putin, they can resolve any of their little but real problems: Problems they've encountered with the state system, problems getting registered for treatment in hospitals, or getting their pensions increased. People in Russia are now beginning to think of Vladimir Putin as Father Christmas," said Mukhin.

Maybe the real purpose of Putin's record length phone-in today was just to hone his image. "I believe that boosting his own popularity ratings was definitely not at the bottom of Putin's list of priorities today," said Mukhin. A poll by the Public Opinion Foundation (FOM) released on Nov. 3, exactly a month before the phone-in, suggested that Putin's popularity was declining, with 66 percent of respondents saying they trusted their prime minister, down from 72 percent the previous month.

Petrov agreed with this assessment, seeing a clear populist pattern in Putin's promises. "All of those decisions which were reported in detail by Putin today, such as increasing people's pensions, these decisions are all populist," said Petrov. Of course, this is nothing new, he added. "I would say that the whole activism of the government is oriented toward keeping Putin's ratings pretty high; in fact, it's very important for this political system in general," said Petrov.
All rights reserved by Rossiyskaya Gazeta.