Moscow's internet prospects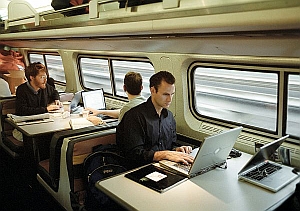 Muscovites already enjoy 24-hour wirelessInternet
Russia's Comstar announced the launch of its new product, the ColibriComstar netbook, at a press conference in Moscow on December 10. The unique laptop-like device allows nonstop access to high speed wireless internet anywhere in the city.
"It's amazing – I have access to internet wherever I go, even in the car," exclaimed Comstar customer Maxim Mikhailov. The Moscow-based fixed-line carrier Comstar-UTS, which was acquired by Russia's largest mobile operator, MTS, holds nine percent of Russia's broadband internet market, servicing 1.2 million households nationwide (including 800 thousand subscribers in Moscow). Its broadband client base grew by 32% over the previous year.

Comstar launched its WiMax network in Moscow in May 2009. "Our soft-launch went very smoothly," commented Comstar-UTS President and CEO Sergei Pridantsev. "We began testing the network in January and fully went online in May. We're now focusing on improving network coverage within Moscow and marketing our own "netbook" under the ColibriComstar brand name," he said. Netbooks are a relatively new, simplified version of laptops that utilize web-based programs and are rapidly gaining in popularity throughout the world.

"The netbook is a special product that combines some features of a regular laptop with increased accessibility: it's smaller, lighter and has a longer battery life. Although it lacks a CD/DVD drive and some other benefits of a laptop, it has a built-in camera and microphone, allowing users full access to Skype," explained Comstar-UTS Vice-President Alexander Gorbunov.

"I tried the netbook yesterday: I had access to my email when I was stuck in a traffic jam via WiMax; outside the city, I was able to connect via EDGE technology, and, this morning, sitting in a café, I checked my inbox using ordinary Wi-fi. Our netbook allows you to do this without any additional modems or chips, and without worrying about which technology to use. The computer does it all automatically," commented Pridantsev.

Comstar utilizes 4G technology to provide a wireless broadband "umbrella" to the covered areas, which allows users to enjoy full access while moving at speeds of up to 75 miles an hour. If a laptop does not have integrated WiMax technology, a "dongle" device, not unlike a USB flash drive, allows full access to the network at speeds of up to 10 Mbps.

"Seventy-five percent of Moscow households have a computer," continued Pridantsev. "Many of them use laptops, and some homes have several of them. Therefore, there are over one million laptops in Moscow today. Laptops are already out-selling desktop PCs, and, according to our data, at least 50% of laptop users are interested in occasionally using wireless internet technologies. Moscow's WiMax market is huge," he commented.

Comstar's upcoming expansion into Russia's regions, however, will focus on acquiring local landline internet providers, rather than WiMax services, according to RBK Daily. "Over the next few years, we plan to provide internet to 131 cities with populations between 100 and 200 thousand. Thus far, Moscow is the only city where we will develop additional wireless technologies. The regions lack demand for mobile internet; broadband has huge potential," added Pridantsev.

He stressed, however, that Comstar views wireless internet as an addition to landline services: "We need more frequencies than are currently available to guarantee all clients high-speed wireless access. Therefore, WiMax is just an addition to our landline services."

Regardless of the provider, visitors to Russia's capital can already enjoy extensive, 24-hour wireless access to the internet. The USB-dongle device can be purchased in Comstar's stores citywide, in the ION chain of high-tech shops and over the internet for around 490 rubles ($16).

The company's partnership with Intel allows any customer using rival Yota's equipment to switch to the Comstar's network.

Moscow also currently offers five thousand FON Wi-fi hotspots for users of the global FON social network.

"As of today, the COMSTAR FON network has 2,000 subscribers. Now all hot spots accessible for the registered users of the FON network are visualized. This is vitally important for the further growth of the network, as the more active points of access it comprises, the more interest from new subscribers there is. We have opened public access to them for other members of Wi-fi FON community," added Gorbunov.
All rights reserved by Rossiyskaya Gazeta.