Europe's new hub to Asia?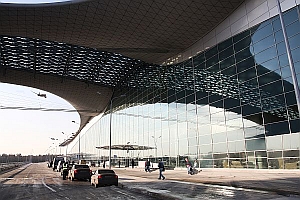 Sheremetevo International Airport's Terminal Drecently welcomed its first flight
A unique international air hub is taking shape in Moscow, which has the potential to unite trade flows throughout all of Russia and become an important transit link in E.U.-China trade. But Russia's notorious flyover fees and rivalry between major airports remain a hurdle.
"Long lines, angry customs officials, dark hallways and that stupid ceiling design — that is the typical Moscow airport of the '90s I remember," reminisced Eugene Ponamorev, a computer programmer who moved to the United States from Russia in 2000.
Exposed to the pressures of the market economy and tough competition, Moscow's airports are undergoing a transformation in design, service and logistics systems.
Sheremetevo Airport, the city's second-largest by passenger volume, made headlines last month with the opening of its long-awaited Terminal D. By mid-February, the new terminal will service all of Aeroflot's domestic and international flights, as well as the flights of its SkyTeam partners.
In an attempt to avoid the problems that London's Heathrow airport experienced upon the opening of its Terminal 5, when 28,000 items of baggage were lost over 10 days because of a glitch in the baggage system, Sheremetevo's management began testing baggage-scanning equipment in Terminal D in May.
"We decided to go with a soft launch to avoid the sorts of problems that other airports had when opening new terminals," Albert Shcherbakov, the general director of Terminal, the new unit's owner and operator, told the Moscow Times.
A new automatic baggage processing system has been installed that uses radio tracking devices for each item.
Until recently, Sheremetevo's main problem was the lack of convenient and fast flight connections for transit passengers. "It's incredible: If you come from London and want to make a connection, you have to go through all the formalities, receive your luggage, clear customs and pay $16 for a taxi to get to the terminal for domestic flights," complained a British corporate lawyer who declined to give his name.
In 2007, Terminal C came into operation for domestic flights. With Terminal E in the final stages of construction, all of Sheremetevo's international terminals will soon be united under one roof. The planned capacity is 25 million passengers per year.
Transit Fees
The burgeoning Chinese economy and growing domestic demand presents an opportunity for Moscow to become a major hub for East-West trade flows in the 21st century.
In 2006, flights to China accounted for as much as one-fifth of Europe's total air traffic. On the eve of the global crisis, Airbus Global Market Forecast predicted a five-fold increase in passenger traffic and a six-fold rise in freight transportation over the next two decades.
However, Russia currently charges additional transit fees from international carriers, which are then distributed between federal agencies and state-owned Aeroflot, the country's largest airline, on top of the usual air navigation fees. As a result, many airlines opt to bypass Russia, boosting air hubs in the Middle East and Central Asia. Kazakhstan has built several state-of-the-art airports, including in its capital, Astana, luring some of the carriers who used to fly from Europe to Asia via Siberia.
The global crisis has buried hopes that the fees will be cancelled anytime soon, which was a major point in accession negotiations with the World Trade Organization. Aeroflot general director, Vitaly Savelyev, admitted in June that over the past six years his company had been covering the huge hole in its budget with the flyover money.
Moscow Rivalry
Moscow's claim on becoming a key global air hub is also paradoxically being held back by the existence of its three international airports, which are located far from each other and have different owners. Domodedovo, Russia's largest airport by passenger volume (20 million in 2008), is owned by the private company East Line. Sheremetevo (14 million) is state-owned; Vnukovo (8 million) is owned by private investors and the Moscow City Government.
Domodedovo currently has two global customers: Star Alliance, headed by Lufthansa, and British Airways' One World. Unlike SkyTeam, Star Alliance and One World don't have any Russian airlines in their ranks.
According to Vitaly Vantsev, First Deputy General Director of Vnukovo, a new terminal will be completed by 2012 and will be one of Europe's largest. These improvements, once completed, will make a dramatic difference in Moscow's standing as a major hub.
All rights reserved by Rossiyskaya Gazeta.