Russian animation in search of a hero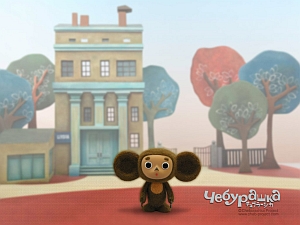 True, the Soviet makers of animated films, unlike the Soviet makers of spaceships, were did not have instructions to "catch up with and overtake America"; everything they did was for their own homegrown Soviet viewer. However, this did not prevent many of their films from earning international acclaim.

Today Russian animated-cartoon artists are facing that eternal Russian question: "What is to be done?" Should they continue to produce their signature non-commercial films or should they work for the industry? Their choice will determine the future of Russian animation — festival showings for a small circle of professionals or productions for a mass audience.

"Give Us a Soviet Mickey Mouse!"

In the summer of 1933 Moscow hosted its first festival of American animated films — an event that changed the history of Soviet animation. The films of Walt Disney so stunned Soviet viewers, including Joseph Stalin, that it was decided that the Soviet Union should create something comparable. "Give us a Soviet Mickey Mouse!" was the slogan and order of the day. Three years later, Soyuzmultfilm (an exact replica of Disney's studio with assembly-line production) opened its doors.

Having begun by imitating Disney, Soviet animators refined their drawing techniques almost to perfection. The Soviet government did not grudge money for animated films and the artists had the luxury of using many more drawings for each film than was customary. Where more commercialized countries often sought to cut expenses by producing "limited" animation with an average 5 drawings per second, the Soviet Union never used less than 12 drawings per second and sometimes as many as 24. So that the quality of Soviet animated films was significantly higher that that of the average Western production.

Another difference between Soviet and American animation was the lack of violence. "Films like 'Tom and Jerry', where the heroes are always punching each other and playing mean tricks, have never been popular here," said Sergei Merinov, a film director with the Pilot studio. "In our films there has always been less aggression. We staked our all not on action, but on psychology, humor and a dialogue with the viewer. This had nothing to do with special ideological concerns; it came out of the tradition of Russian folktales."

The best Soviet animated films from the "Disney period" — such as "The Golden Antelope" (1954) and "The Snow Queen" (1957) — were world-class productions. Hayao Miyazaki, the prominent Japanese maker of many popular animated feature films, saw "The Snow Queen" during a difficult period in his life when he was thinking of leaving animation. Thanks to that film, he realized that high-quality, painstakingly drawn animation could reach the depths of a person's soul.



Soviet animation was finally liberated from Disney's influence in the early 1960's.
This coincided with the appearance at Soyuzmultfilm of directors like Fyodor Khitruk, who created the Russian version of Winnie-the-Pooh. His first film, "Story of One Crime", made a huge impression. Everything in it was new. Both the story (of a very sweet man whose noisy neighbors drive him to attempt murder) and the art (a montage of drawn animation combined with cut-up photographs). In 1962 this film received the Silver Lion at the Venice Film Festival.



Khitruk's technique of layering was perfected by another master of Russian animation, Yuri Norshtein. This technique was first used in Soviet animation in the 1920's — for lack of anything better. It was far simpler to cut out separate parts of a figure and move them around in front of the camera than to make a drawn film. Then it turned out that an artist with a good imagination and this technique could create all sorts of interesting things. Yuri Norshtein, for instance, thought of dividing not just the figure of an animal character into large parts — head, trunk, paws — but into much smaller parts using various materials. He would scratch out and draw lines on pieces of tin foil and celluloid, then arrange these pieces on horizontal glass tiers set up at different distances from the camera so as to make the animal three-dimensional. This is the technique he used in his world-famous films "Hedgehog in the Fog" (1975) and "Tale of Tales" (1979). A few years ago "Hedgehog" was voted the world's best animated film by a poll conducted among 140 animators and film critics from different countries. Norshtein is also using this layering technique in his new masterpiece "The Overcoat" based on the story by Gogol. He has been at work on this film for more than 20 years (finances are a constant problem) and has so far completed 20 minutes.



"A Mountain of Gems"

The golden century of Soviet animation ended with the arrival of perestroika, when the gargantuan state studio Soyuzmultfilm broke up into dozens of private studios. That was when Soviet animators first had to decide whether to go on making their signature films funded by sponsors for the sophisticated few at festivals or to earn money on their own with commercial projects. According to Alexander Gerasimov, director of the Open Festival of Animation in Suzdal, in the 1990's most animators were betting on signature films: "They started making 'grown-up' animation that they hoped would end up in the programs of international festivals. These were philosophical films about the meaning of life, about man's inner world. No one wanted to make films for children."

Many of these films did do well at festivals — the program of almost every animation festival contains Russian films, but mass audiences have not seen them. A fresh attempt to win Russian audiences, now spoiled by the best Western films, began in the early 2000's when the Russian government again began giving financial support to animated films. The first such successful project was the "Mountain of Gems" cycle produced by the Pilot studio for television. The point of this series (of the 100 episodes planned, 52 have been shot) is to tell Russian children about the county they live in. Each episode is a mini-film based on a folktale from one of the peoples that inhabit Russia. Each episode begins with a brief history of that people's customs and traditions. For instance, to film the episode based on a Mordvinian folktale, director Sergei Merinov traveled all over Mordovia looking for the material he needed about costumes, customs and everyday life. The result was so colorful that it won not only Best Film at China's Golden Panda Festival but also Best Make-up and Costumes. Merinov was then invited to show this film at the National Geographic Festival. "Few people know about the many nationalities that make up the Russian Federation," says Merinov. "And in the process of making this film we, too, learned many interesting facts."

"Smeshariki"

If the "Mountain of Gems" project is entirely dependent on government support, then "Smeshariki" is Russia's first truly successful commercial project. It was born in 2003 at the Petersburg studio of computer animation. "At first the idea of creating a Russian brand based on animated films was met with great skepticism by people here," said Alexander Gerasimov, co-producer of "Smeshariki". "They considered that that niche had already been taken by foreigners." But soon it turned out that the idea of a world without violence (this series stars nine very sweet spherical creatures, none of whom is bad) is very advantageous. "We practically gave the series away to TV, we knew it wouldn't make any money," said Gerasimov. Today the series' characters are recognized by almost 100% of Russian viewers. Last year the series made its debut on the American channel CW, where it is known as "Gogoriki".



Today "Smeshariki" is a whole range of products under the same name: DVDs, audio books, regular books, a monthly magazine, computer games and interactive games. In 2008 revenues from licensing "Smeshariki" products totaled $160 million.

Another success story is the "Bogatyr Trilogy" (drawn, feature-length films that use irony in recounting the adventures of three heroes from Russian folkore: Alyosha Popovich, Dobryn Nikitich and Ilya Muuromets), a brave and brilliant gesture by the magnificent producer Sergei Selyanov, who made his name with the cult film "Brother". The third film in this trilogy, "Ilya Muromets and Solovei Razboinik", premiered in early 2008 and took in nearly $10 million at the box office (having been made for $2 million).

Another encouraging tendency is that of our modest independent directors, unsinkable in any domestic or financial storms. Take, for instance, the famous director Ivan Maximov. He makes small films relatively cheaply, works extremely hard and is an outstanding talent. His films, absurd and touching little vignettes, grow in popularity from year to year. And although "Wind Along the Coast" (2003) or "Rain Down from Above" (2007) has not won an Oscar, these films are as much loved by Russian viewers as any of Norshtein's productions.



The small studio Metronome-film has also been a pleasure to watch. Founded only three years ago, it has already produced its second charming series. The first series, "World Lullabies" directed by Elizaveta Skvortsova, consisted of several dozen 3-minute clips based on lullabies of different countries. Now in post-production is the 12-episode "Year Round" directed by Veronika Fyodorova, a collection of miniatures based on the prose of Yuri Koval.



"Today the old masters are fighting for signature films, while young animators are fighting for the industry," said Alexander Gerasimov. His hope for a revival of Russian animation is in the quantity of films submitted to the Suzdal festival. "If in 1997 there were 20 animated films, today we get 130, 80 of which enter competition." Gerasimov also feels sure that despite the domination of computer animation, drawn films will not die because a picture is very organic for the eye. Drawing technique is the strong suit of Russian animation.

Remarks by Otto Alder

The Swiss film expert Otto Alder directed a documentary about Fyodor Khitruk called "The Spirit of Genius" (1998). He is currently head of the International Animation Academy of Lucerne.

"Russian animation has a very long history, rich traditions and a serious school. At its foundation stand people like the pioneer of puppet animation Vladislav Starevich, the experimentalist Nikolai Khodataev and the talented artist Ivan Ivanov-Vano. After that brilliant period came years of building up mastery with Soyuzmultfilm and then the artistic revolution (it can't be called otherwise) brought about by Fyodor Khitruk.

"Now, of course, as throughout Eastern Europe, Russian animation is not in one of its best periods, but it still has remarkable artists and directors among both the older generation (Yuri Norshtein, Eduard Nazarov) and the younger generation (Ivan Maximov, Mikhail Aldashin).

"Most surprising of all in their films is the manner of narration: both the stories these directors choose to tell by means of animation and how these stories are told. I suppose that the type of story typically chosen is the main distinguishing feature of Russian animation. Russian animation is tied to Russian folklore, on the one hand, and to fairytales, on the other. Today many Russian animation directors choose Russian folktales as subjects for their films. As a result, contemporary Russian animation is by and large ethnographic (which cannot be said, for example, of Canadian or Swiss animation). It's hard to imagine that a project like "Mountain of Gems" by the Pilot studio could be made in any other country.

"Of course, material such as folktales dictates a certain intonation in the telling. Therefore Russian animated films are essentially kind, heartfelt and pleasant to watch. At least I like to watch Russian animated films.
All rights reserved by Rossiyskaya Gazeta.