Copenhagen didn't change the climate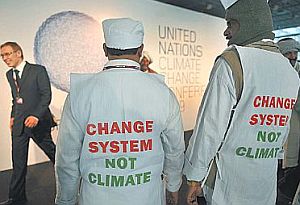 It's unclear if the world will find consensus onclimate change after the summit
Despite ambivalent results at the Copenhagen summit, Russia still plans to commit to lower CO2 targets and reduce harmful emissions. This comes as part of a broader plan to improve energy efficiency and spur economic growth through green technologies
On the heels of the summit, president Dmitry Medvedev had pledged to cut Russia's harmful emissions to 25pc less than the 1990 level if other leaders follow. Mr Medvedev also promised to make Russian industry 40pc more energy efficient by 2020.

Previously, presidential Aide Arkady Dvorkovich had pledged $200m to a multibillion-dollar fund to support poor nations, but not before a successor to the Kyoto Protocol on reducing harmful emissions would be signed.

However, speaking at an informal meeting with his counterparts from post-Soviet states, Mr Medvedev echoed the words of several commentators: "There are results, but they are rather modest."

On the eve of his trip to Copenhagen, President Dmitry Medvedev spoke on his videoblog about the question of climate change, emphasising Moscow's firm position on the need for joint action by the world's major powers. He said that international co-operation on this issue is essential, and that all commitments should be taken on by the biggest emitters of greenhouse gases – the USA, Russia, China, India and Brazil – at the same time, otherwise they would be meaningless. "I would especially like to stress this: these should be commitments that we make at the same time and that we keep together. If our efforts are uncoordinated they will be ineffective and meaningless. This issue is essential, and I say again, we need to get to grips with all this together," said Mr Medvedev.

"[However], the commitments must be consistent with our economic potential and, very importantly, each country's development priorities. We understand that young industrial economies will have a greater requirement for energy resources than the post-industrial powers that have already developed their economies," he continued, recognising the interests of developing countries.

"We are now taking an active part in the drawing up of a new agreement on a climate regime for the so-called 'post-Kyoto' period, the period after 2012," the president said later, at a conference on the development of power engineering. "Even if the talk about the climate and the global changes taking place in the environment is not confirmed, as a minimum we shall lose nothing, because we shall engage in energy efficiency and have a certain effect on improving the surrounding world," said Mr Medvedev. "But if, God forbid, what the scientists are currently saying turns out to be true in one way or another, it still definitely follows that that is what we have to do. So that means we win either way."

The commitments that Russia has made in accordance with the Kyoto protocol envisage only a reduction of greenhouse gas emissions in 2008–2012 to a level no higher than that of 1990. Even so, according to ecologists' data, as a result of the economic recession emissions have never reached that level in Russia's recent history.

Russia's emissions grew between 2000 and 2007, but incommensurably more slowly than its GDP – by just 1pc per year (on 1990's level) – and before the crisis they had reached 66pc of the 1990 base level, said WWF Russia. Greenpeace agrees that the target of "reducing emissions" by 25pc actually means a growth in emissions.

Ecologists nevertheless believe that the plans that have been announced with regard to the rise in emissions can only be welcomed. "Growth of up to 75pc means that, thanks to energy efficiency and energy saving measures, the trend will be maintained and strengthened," said a WWF statement.

"In terms of the 'percentage' for 2020, we are actually the leader among the major countries. But it's not just a matter of the percentage – what's more important is to stop the growth in emissions and to start to reduce them. That's what will show whether Russia is developing on the basis of new systems rather than the old ones," said Alexei Kokorin, head of WWF's climate programme.

"Medvedev is trying to position Russia so that on the one hand he can show that it is aiming for modernisation and vote for a new agreement, while at the same time not damaging relations with its strategic partners, primarily China," explained Alexei Mukhin, head of the Centre for Political Information. He recalls that the main opponents of restrictions are the USA and China, which have not signed the Kyoto protocol: production in these countries is so highly developed that restrictions would be disastrous for their economies.

Earlier, at a meeting with Danish premier Lars Lokke Rasmussen, prime minister Vladimir Putin stated that Russia is ready to support Denmark's efforts to push ahead with the post-Kyoto ideas, but on a number of conditions: first, the world's major economies must sign up to the document; and, second, that greater account is taken of the potential for Russia's forests to absorb carbon dioxide. In Mr Putin's view, the Kyoto protocol underestimated Russia's forests.
All rights reserved by Rossiyskaya Gazeta.