The designer who sets the beat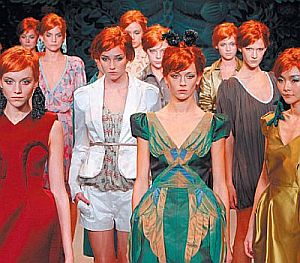 Akhmadullina demonstrated her new collectionin Paris
On the heels of the economic crisis and in a still-underdeveloped fashion industry, one of the country's most successful young couturiers shows it is possible for a fashion designer to prosper in Russia.
While Christian Lacroix and other prominent couturiers are drowning in the financial turmoil, fans of the 31-year-old Russian designer Alena Akhmadullina (left) remain loyal to her classy, smart and timeless style.
"With the crisis people started shopping less for luxury items and decided to lead a more ascetic life style for the meantime," said Akhmadullina in a phone interview.
"Now with the end of the crisis the consumption levels in the fashion industry are returning to normal," added Akhmadullina.
A St Petersburg native, Akhmadullina created her first collections while she was still a student at the St Petersburg University of Technology and Design. Her first breakthrough came at 23, when in one year she won the first prizes at several young designers' competitions, including "Smirnoff International" and "Dress of the Year-2000". She won the latter for her "Dragon" dress, the back of which was decorated with a laminated dragon ridge and the front – with dragon paws.
Having represented Russia at Italy's "Mittelmoda" and the Swiss "Gwand Fashion Concepts" competitions, Akhmadullina remained true to her Russian folk-tales-inspired design.
In 2005 Akhmadullina's prêt-a-porter collection caused a furore at the Paris Fashion Week by its new take on the traditional "a la russe"-style. Models in animal masks, wearing sweatshirts with wolf and owl-skin patterns, silk polka-dotted skirts, Russian scarves and wool beads, carrying rectangular leather grocery-styled bags trotted the catwalk to techno-covers of Russian folk songs.
Now Akhmadullina's most loyal clients include boutiques Dantone-DAAD in Milan, Monaco's Espace Mirage and Gaia in Los Angeles, the editor of Russian Vogue Aliona Doletskaya, Roman Abramovich's girlfriend Dasha Zshukova and other Russian socialites.
In Timur Bekmambetov's film
Wanted
, Angelina Jolie's character appeared in attire by Akhmadullina, while the French version of Hywel Davies' book
100 New Fashion Designers
listed Akhmadullina in its 2009 issue.
Last autumn, Akhmadullina opened her first mono-brand boutique in Moscow. Her most recent projects include the Eurovision Song Contest 2009, for which she designed 43 country images that were shown in video clips before each contestant's performance, and plans for opening her own fashion house in Grozny, Chechnya's capital. The Chechen branch of Alena Akhmadullina brand will specialise in clothes and accessories that will suit the Chechen women's traditional clothing preferences.
Alena Akhmadullina remains one of the most successful young Russian designers, who have a played a key role in transforming the image of the Russian fashion in the West. However, very few aspiring Russian couturiers are able to repeat her story.
"The designer's talent is not sufficient in our industry. An adept businessman needs to be behind the brand for it to succeed," said Akhmadullina in a phone interview.
"The Russian fashion industry has seen a slow development because of the lack of investments into this sector. The time when the investments into this industry are starting to be made is just beginning," she added.
All rights reserved by Rossiyskaya Gazeta.