Anton Chekhov: holding out for a modern hero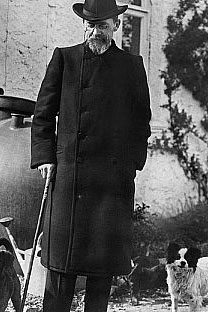 Most theatres will celebrate the 150th anniversary of the birth of this writer whose plays – such as Uncle Vanya, The Seagull and The Cherry Orchard – continue to be staged around the world, more than a century after they premiered. "In the galaxy of great European playwrights who were Ibsen's contemporaries, Chekhov shines as a star of the first magnitude, even beside Tolstoy and Turgenev," wrote George Bernard Shaw.
Chekhov was born in Taganrog on January 29, 1860. The son of a grocer (and grandson of a serf), he enrolled at Moscow Medical School, eventually becoming a doctor. While practising medicine in 1886, he contributed to St Petersburg daily Novoe Vremya, developing a dispassionate, non-judgmental writing style.

Chekhov wrote extremely quickly, often producing a short story in an hour or less. In 1892, he bought an estate in the village of Melikhove. It was during this period that he started writing full-time and published some of his most memorable stories. In 1897, he fell ill with tuberculosis and moved to Yalta on the Black Sea. Chekhov died of pulmonary tuberculosis on July 15, 1904, in Germany.

This reflection on the writer's enduring popularity reveals his eye for simplicity.


The simplicity of a sophisticated man

Chekhov's plays have graced the Russian stage for more than 100 years and world stages for slightly less than a century. What is the secret of their charm?

Tolstoy, who loved Chekhov, said once, as they embraced on parting: "I still don't like your plays. Shakespeare's plays are bad enough, but yours are even worse." Tolstoy found Shakespeare guilty of exaggeration, philosophical maxims and unlikely scenes that destroyed the credibility of his characters and situations. However, distinguished literary critics at the end of the 19th century accused Chekhov of just the opposite: his plays contained no exceptional events, no great characters, nothing out of the ordinary, no stylistic tension, no overarching philosophy…

One should remember that when Chekhov was young, Dostoevsky was still alive and dreaming of bringing church and state together, and still instructing Russians about the great historical mission of world sympathy: to understand and love the truth of all peoples more deeply than they themselves. Moreover, Chekhov had already written everything he was to write by the time Tolstoy was roaring about reorganising Russian life according to the laws of early Christianity.

In the theatre, dramas – by writers such as Ibsen and Maeterlinck – with grandiose metaphors and sweeping statements about world problems were all the rage. Quasi-realistic prose tried to keep pace: Maxim Gorky in his recalcitrant tramps hinted at a Nietzschean superman, and in his sensible workers he was calling for revolution.

Everything was bubbling and glittering, there was promise of unheard of changes, unprecedented revolts. Enter Chekhov, who promises exactly nothing; whose subject is the rather cheerless (but not horrifyingly so) days of not overly happy (but not horribly unhappy) people; people who rise enough above their milieu to realise that they are lonely – but not so lonely as to become heroes or leaders.

Chekhov was too normal, said the aesthetes and decadents who wanted to build a new life according the laws of art; Chekhov wasn't ideological enough, he wasn't calling for a just social order, said politicised members of the intelligentsia. His heroes were spineless and apolitical. In his diary, Tolstoy remarked that Chekhov understands no more than do his heroes.

The world would have to live through the horror of the First World War; it would have to witness unheard of changes and unprecedented revolts in order to appreciate Chekhov's principal discovery: a normal, not overly happy humdrum life is the most we can expect. In the world there are no trifles; everything is filled with significance: all you have to do is study it and recount what you see in Chekhov's precise and ascetic language. In the Sixties, when the sophisticated Soviet reader was going crazy over the subtexts in Hemingway, and noticing that even the most trivial exchange was filled with a mysterious depth if inserted it into prose or drama, for me it was only an echo of Chekhov.

Hemingway himself considered the "intelligent doctor" one of his teachers. (Chekhov also taught Dreiser, Sherwood Anderson, Fitzgerald and Thomas Wolfe.) But Hemingway with his minimalist means glorified the courage and staunchness that are required only in extreme situations, whereas Chekhov poeticised ordinariness. With a sad compassion he portrayed the everyday life of the nice, not overly decisive person, and that person repaid him with love and gratitude. Chekhov loves us without demanding anything. He realises that man is a weak and lonely being who endures his own existence; that, evidently, is the world view most typical of the cultivated person today.

The aestheticisation of one's weaknesses is the last consolation of those who have given up hope of triumphing. Russians have long since stopped dreaming of turning their life into a social paradise or fascinating adventure.

The turn of the 20th century was a time of appallingly exaggerated demands in comparison with which everyday pleasures and virtues seemed grey and lacklustre. But the 20th century itself brought so many disappointments with its empty panaceas, and people were so fed up with changes and revolts that Chekhov's "spineless", "non-ideological" characters began to be viewed as "positive heroes". Chekhov's modest and cultivated characters – the doctor or the teacher, the librarian or the engineer who is not obsessed with any grand dream, but honestly bearing his burden from one day to the next – are the real heroes of our time.

The civilised world, which paid in the 20th century for its fin de siècle chimeras with bombings and concentration camps, no longer looks down on those characters. Today, we're no longer trying to make life perfect; we'll be content if it is merely bearable. We have taken a different road from utopians like Tolstoy and Dostoevsky, and Chekhov turns out to be the civilised person's best companion. Chekhov's world is now ours.

Alexander Melikhov is a writer from St Petersburg
All rights reserved by Rossiyskaya Gazeta.