From Peter the Great to Gorbachev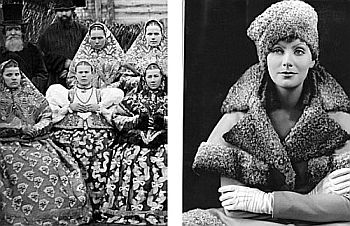 From Russian "sarafan" (left) to elegant "manto" a laAnna Karenina: these styles are making a comeback(Greta Garbo, right)
One of the best living Russian writers, Viktor Pelevin, once said that Russian history is in a sense a history of fashion. Scenery and costumes of main characters may change, but the essence of deep-laid processes remains the same. One may not agree with it, but as for Russian fashion it's undoubtedly true.
In Russian history the fashion revolutions always coincided with the greatest political changes: from Peter the Great to the Revolution of 1917 to Gorbachev's Perestroika.
Made popular around the world by Yves Saint Laurent's "a la Russe" collections and Russian ballet, the main elements of contemporary Russian style were born as a result of dramatic reforms.
The premier Russian fashion revolutionary was Peter the Great, who not only exposed Russia to the Western political values, but also dressed Russians in Western-type clothes. It was thanks to Peter that Russian men shaved off their long beards, tried on pants for the first time, while women uncovered their scarf-clad hair and exposed their cleavages to the rest of the world.
While the 18th- and 19th-century Russian aristocracy dressed identically to its French and Prussian counterparts, with the turn of the 20th century the traditional Muscovy Rus style of heavy fabrics, elaborate gold and precious stone embroideries and female half-moon-shaped headwear kokoshniks made its comeback and won over Europe with Serge Diaghilev's Ballets Russes.
Performed at the Parisian Grand Opera and Covent Garden, Stravinsky's Firebird and Petroushka, along with Rimsky-Korsakovs Golden Rooster revealed the intricacies of the pre-Petrian fashion. Leo Bakst, Aleksander Benua, Nikolay Rerikh – the leading artists of the "Mir Iskusstva" group dressed the Russian dancers in costumes that were inspired by the Slavic fairy tales.
As the first grand entrance of the Russian arts onto the European stage, the Ballets Russes shaped the European public's view of Russian style, forever leaving the impression of an extravagant, colourful and flashy fashion culture.
The Revolution of 1917 made the Russian fashion adjust to the new Communist norms, which condemned everything "bourgeois" and extraordinary.
In its early phase the Soviet state introduced equality among sexes and classes, instantly affecting the Russian style by radically simplifying the dress.
However, creative Russian women managed to retain their style even in the worst times, going to great lengths to get hold of Western European clothing designs and replicating Jackie Kennedy's dresses, it wasn't until Mikhail Gorbachev's wife Raissa that the Russian style started coming back to the world arena.
Gorbacheva came to symbolise the free spirit of Perestroika. At the time of great changes Gorbacheva's fashion sense brought a new wave of optimism to the Russian fashionistas. And while the Russian home design industry is relatively young and underfinanced, the success of Alena Akhmadullina, Denis Simachev and Igor Chapurin on the international fashion market is proof of the Russian style's comeback in all its glamour and magnificence.
All rights reserved by Rossiyskaya Gazeta.