Ex-Soviet partisan Vasily Kononov fights his last battle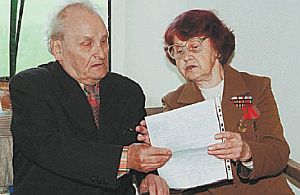 Vasily Kononov maintains an active lifystyledespite his age
Vasily Kononov is surrounded by his family in an apartment outside Riga. His daughter by his side, this 87-year-old WWII veteran maintains a sense of humour despite the many tragedies he has experienced. The European Court of Human Rights is to rule on an event that happened in 1944, with potential repercussions for all veterans across European.
In June 1943, a 21-year-old Vasily Kononov was parachuted into German-occupied territory in Latvia. As a member of the 1st Latvian Partisan Brigade, Kononov proved to be one of its best demolition men. By 1944 he was in charge of an entire unit, personally destroying 14 echelons carrying troops and equipment. Kononov twice suffered shell-shock and was wounded several times, undergoing three operations after the war. He was highly decorated for his service, and later joined the Latvian police force, retiring at the rank of colonel.
Kononov lived quietly until 1998 when, following the fall of the Soviet Union, he was indicted by Latvian prosecutors for an episode that had taken place in 1944 in Nazi-occupied Latvia. Twelve scouts from a partisan unit had stopped to rest in the village of Malye Baty. The owner of the shed where they slept informed local authorities, and the following morning it was surrounded by Germans and burned to the ground. Everyone inside perished.
At the time, Nazi collaborators in Eastern Europe were dealt with harshly. A partisan tribunal sentenced the perpetrators to death, and, on May 27, 1944 Kononov's unit seized Malye Baty in a surprise attack. According to Latvian authorities, the partisans killed nine villagers. Latvian prosecutors deemed this operation a war crime because two women were among those killed. Five of the villagers had been shot and four had been burned alive.
Since 1998 Vasily Kononov has been tried six times and has spent nearly two years behind bars. The accusations range from genocide to thuggery. Kononov was eventually released and the European Court of Human Rights (ECHR) found that the criminal prosecution of the former partisan was unauthorised. The Latvian government, however, appealed. The case is now being reviewed by the Grand Chamber of the ECHR.
At least two aspects of international law weigh in favour of the veteran. First, only members of a regular army – not a partisan group – can be tried for war crimes. Second, war criminals can only be found among an occupying army, not a liberating one. According to the commonly held interpretation of WWII, Soviet units liberated Latvia from Nazi occupiers and their collaborators.
The Latvian government has maintained that the Soviets were occupiers on the same level as the Third Reich, a point of view that contradicts the results of the international military tribunal at Nuremberg, which decided who was a "war criminal" and "occupier" following the war.
The Moscow Mayor's office has thrown its weight – both financially and politically – behind Kononov. "We were not indifferent to Mr Kononov's fate from the beginning," Mayor Yuri Luzhkov told a Russian Nation Congress earlier this month. "This case carries a provocational and political character and is part of a dirty campaign to discredit a war veteran."
Kononov's conviction as a war criminal could provide and excellent opportunity to legitimise the USSR's status as an occupying force and allow Latvia to demand monetary compensation.
However, should this happen, the fate of some 300,000 Jews from all over Europe who were murdered on its territory will also arise. The murders were carried out mostly by Latvian subunits – for example, by the SS-Sonderkommando led by Victor Arajs. These victims are also sure to demand monetary compensation from Latvian authorities.
Should Europe's highest court set a precedent in favour of the Latvian government, almost any surviving resistance fighter in Europe unlucky enough to have killed a Hitlerite or his accomplice could be put on trial. It will also have repercussions for Latvia's Russian minority, which has accused the authorities of mistreatment in several previous cases that have reached the court. Finally, such a ruling could contribute to the already deep divide in Europe over the Soviet Union's role in WWII, emphasised by the European Parliament recently equating Soviet Stalinism with German Nazism.
Fate would bring Vasily Kononov to fight his last battle not in 1945 on the Eastern Front of WWII, but more than 60 years later in Strasbourg. Just like in the past, all of Europe anticipates its conclusion.
All rights reserved by Rossiyskaya Gazeta.