American Balalaika symphony performs in Alexandria January 23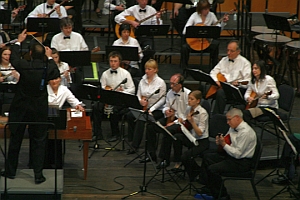 On Saturday, January 23, 2010 at 7:30 p.m. the American Balalaika Symphony (ABS), under the artistic direction of Peter Trofimenko, will present "Bright Winter Moon: Songs and Dances from the Russian and Ukrainian Heartland," at the Rachel M. Schlesinger Concert Hall and Arts Center, Alexandria.
The American Balalaika Symphony is the winner of the recent Strathmore 25th Anniversary Competition, besting 34 competitors in the performing arts from Washington, D.C., Maryland, Virginia, West Virginia, and Pennsylvania.

The all Russian and Ukrainian program features seldom-heard pieces by composers both well-known and virtually unheard of in the United States. Much of the music, such as the title theme, Andreyev's Bright Moon, and the haunting Evening Bells, derives from ancient folk traditions that evoke the rivers, woods, and steppes of old Russia. Other selections, including the rousing Zaporiz'kyi Cossack March, Kornev's Volga Quadrille, and Dance from the Polesskaya Suite by Glebov, recall the hearty peasant life of old Russia.

The program opens with the hard-driving overture to The Children of Captain Grant, a Dunayevsky film score based on the Jules Verne novel of the same name, and continues with Troyanovsky's Urals Dance Tune featuring an octet of balalaikas sans orchestra. The program continues with Tchaikovsky's Russian Dance featuring international competition winner Rada Krivenko on domra, followed by Kuznetsov's Semyonova, Shalov's Siberian Polka featuring Dmitry Pechenov and Ekaterina Borodulina on balalaika, and Andreyev's Reminiscence of Gatchina and Bright Moon. The first half concludes with Tsyganochka by A. Belyaev and A. Tsygankov, a gypsy dance based on the familiar Russian folk melody, Two Guitars, while also introducing that old favorite, Dark Eyes into its dashing finale.

The program's second half opens with Kornev's Volga Quadrille, followed by Tsygankov's Mar Dyandya featuring Tatiano Gracheva on domra, and Matviichuk's Bonfire featuring ABS soloist Victor Dubenko on sopilka. Other selections in this half include Shostakovich's bittersweet Waltz No. 2 from his Jazz Suites, Glebov's Dance from his Polesskaya Suite, and Waltz from Sviridov's Snowstorm Suite.

One novel number, the Urals Dance Tune, will be performed by a balalaika octet comprised of every size balalaika in common use today, from piccolo to contrabass. The concert will also feature several numbers by Nalimov Balalaika Quartet, a celebrated Russian balalaika quartet, whose members are joining the ABS balalaika section for this performance.

The American Balalaika Symphony is a resident orchestra of the Rachel M. Schlesinger Concert Hall and Arts Center. In addition to the 2009 Strathmore competition, in 2007 ABS won the International Music Golden Trophy Competition, and the 5th annual international competition "Musical Vladivostok 2007" held under the auspices of Russia's Federal Culture and Cinematography Agency. In May 2008, ABS conductor and artistic director, Peter Trofimenko was appointed to the prestigious Russian Academy of Folk Music – the only living conductor of a folk orchestra to be so honored.

For concert ticket charge and additional information, please visit www.ABSorchestra.org
All rights reserved by Rossiyskaya Gazeta.