Schwarzenegger promises to preserve Russian fortress Fort Ross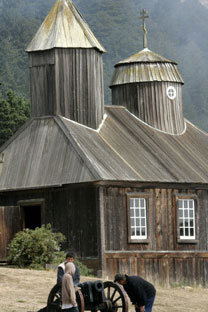 In a letter to Vologda Governor Vyacheslav Pozgalev California Governor Arnold Schwarzenegger said that Fort Ross, the historical park on the site of a Russian fortress by the same name built by Vologda immigrants in 1812, would not be closed because of the financial crisis.
Earlier, due to a severe budget deficit in California, Schwarzenegger decided to cut back on funds to maintain the state's national parks. Later it was announced that Fort Ross would reduce its hours: the hours and days when the park was open would be cut and certain parts of the park closed altogether.

The California governor expressed his gratitude to Pozgalev for his concern about the fate of Fort Ross and added that "Fort Ross is part of both the American and the Russian heritage."

"I also take pride in the park's natural beauty and rich history: it was at Fort Ross that the state's first windmill and shipyard appeared, while Russian scholars compiled the earliest scientific descriptions of California's flora and fauna, its history," Schwarzenegger wrote. "Every year Fort Ross receives many tourists from all over the country and the world. I am happy that the park will remain open."

The park is located 80 miles north of San Francisco. It has existed since 1812 and was considered the southernmost Russian settlement in the North America.
All rights reserved by Rossiyskaya Gazeta.