Maslenitsa - Russian Pancake Day Arrives in London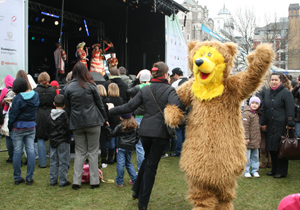 "Russian Londoners are a vibrant and important community who contribute greatly to the fantastic teeming cosmopolis of cultures that make this capital truly unique. A pre-Lenten festival, Maslenitsa, is the perfect way to experience the richness of Russian culture in London", - so said Boris Johnson in support of the Russian Festival, which takes place on February the 7th in Potters Fields Park just next to City Hall.

What a chance for native Londoners and their friends to enjoy the company of the best performers of Russian folk, pop and rock music who arrive from Russia specially for the event. Nowhere else, at least in Britain, you will find such a diversity of traditional Russian musical instruments – domra, balalaika, accordion – all in the hands of the best performers. Musicians and dancers from Tatarstan will also be the guests of this year's Festival.

But what is all the fuss about Maslenitsa? The name itself does sound unusual even for those who are familiar with the Russian language. In context, however, it is very close to English Shrove Tuesday – or to be even more clear, it is a Pancake (Blini) Day. It marks the last week before the Great Lent, a period of fasting. Maslenitsa is a good example of a celebration which has survived for centuries. Lately it has experienced a strong revival and continues to be the most popular of festivities and is celebrated by every family regardless of status, religion or age.

It is also when we say farewell to winter and welcome the coming spring. All week long Russians eat blini, the symbol of the sun as they are round, golden and hot as the sun itself. The final glorious moment of celebration at the end of the week was always burning an effigy that represents winter. This used to be a spectacular bonfire often on a hill to be seen from far away. Not the case nowadays of course, especially in urban environments.

Russian chef can guarantee that the visitors to Potters Fields Park will be able to enjoy genuine Russian food with blini being a priority. Following last year's immensely successful inaugural Maslenitsa Festival, the organisers, Ensemble Production Company, has put even more emphasis on making it a family-friendly event. There will be an all-day children's programme on the Scoop stage nearby featuring puppet theatre pieces, traditional Maslenitsa songs and dances with audience interaction, performances by children's groups along with competitions and games.

Full details of this event can be found at: www.ensembleproductions.co.uk or www.london.gov.uk/events Ensemble Productions are working in association with the Mayor of London, The Ministry of Culture of the Russian Federation, the Moscow City Government, the Government of the Republic of Tatarstan, The Municipality of Kazan City, Stolichnaya-SPI and Petropavlovsk plc.
All rights reserved by Rossiyskaya Gazeta.