Medvedev approves food security doctrine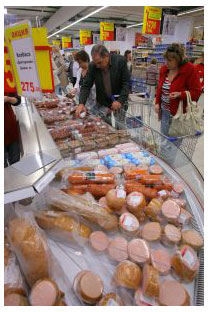 On Feb.1, Russian President Dmitry Medvedev signed an executive order approving the Russian Federation's Food Security Doctrine and charged the government with developing a plan for its implementation. The doctrine aims to boost domestic production of basic foodstuffs by 80 percent by 2020.
The executive order states that the goal of the doctrine is to provide Russia with food security, including the reliable delivery of food products, the development of domestic agro-industrial and fish breeding complexes, and the prompt response to internal and external threats to the stability of the food market.

According to the doctrine, 80 percent of basic food products on Russian store shelves should be produced domestically. Domestic production of grain should increase to 95 percent of the country's requirements, sugar to 80 percent, vegetable oil to 80 percent, meat and meat products to 85 percent, milk to 90 percent, fish products to 80 percent, potatoes to 95 percent and salt to 85 percent.

On Jan. 27, Agriculture Minister Yelena Skrynnik announced that domestic grain supplies had already reached the doctrine's quota. Medvedev, too, gave a positive assessment of the agricultural sector.

"In a crisis year, our villages have shown better results in the structure of economic achievements than in the previous period," said the president at a meeting with Skrynnik. "These indices prove what I see as the indisputable fact that first, investments in agrarian production bring returns, and are not wasted expenditures; secondly, with the help of such investments we can enhance the countryside; and thirdly, we are capable of providing not only our own country with food products, but neighboring countries as well. This task must be accomplished through the Food Security Doctrine."

Steffan de Mistura, the deputy director of the UN World Food Programme was in Moscow recently with the goal of persuading Russia to participate more actively in the program, which provides needy countries with food aid. In an interview with Pavel Tarasenko of Kommersant, he talked about the results of his visit and what, in his opinion, needs to be done so that every person on earth has his daily bread.

Pavel Tarasenko: What role does Russia play in the UN World Food Programme (WFP)?

Steffan de Mistura: Today Russia is a close partner of ours. The volume of annual aid from Russia totals $25 million, which puts it in 17th place on the list of major nation-donors. Although Russia was actively importing food only recently, today its reserves amount to 9 million tons. This, without doubt, is a great achievement. I am sure that Russia, which is striving to play an important role in the sphere of international food security, will soon be able to be one of the top 10 nation donors.

PT: What was done to achieve this aim during your visit?

SM: Over the four days that our delegation spent in Moscow, we met with the Deputy Foreign Minister, the Deputy Agriculture Minister, and representatives of major Russian corporations that produce and process grains. They all understand the need to cooperate closely with the WFP.

PT: Which countries today need your help?

SM: We help 86 million people around the world. Thanks to the efforts of the WFP, 22 million children receive food daily. If we are to speak of Russia's neighbors, then we have programs in Tajikistan, Kyrgyzstan and Armenia. There are many problems with respect to countries in East Africa — Somalia, Ethiopia, Kenya. More than 4 million people receive our aid in Afghanistan and Pakistan. In all these countries, the work of the WFP is a stabilizing factor. This may be why in October Al-Qaeda terrorists killed five of our colleagues in Islamabad.

PT: Until last year you worked in Chechnya. Why was that program shut down?

SM: The situation in the region was normalizing and our presence there was no longer necessary. You see, the mission of the WFP is to supply prompt relief to those in need, and then shift to other problem regions.

PT: Are there any such regions in Russia?

SM: No. The situation in Russia is within the norm. I think that the Food Security Doctrine now being developed will be a positive factor. Although, of course, in Russia, as in any other country, isolated pockets of poverty exist.

PT: How can one fight the problem of an inadequate food supply?

SM: We all know the saying that "give a man a fish and he eats for a day, teach a man to fish and he eats for a lifetime." With our partners, partners like the World Bank, we give people food and economic aid. At the same time, we teach them how to catch their own fish with our education programs.

PT: Has this tactic borne fruit?

SM: Of course. I began working at the WFP in 1971 when India and China were experiencing problems with inadequate food rations. It was real nightmare. The situation was getting out of control since we could not supply food to those countries in the necessary volumes. But look what's happening now. Thanks to our work, India and China are active food donors today.

PT: Do you consider freezing food prices an effective way to combat the crisis?

SM: A decision like that has the right to exist, but its effect will be short-term. It's necessary to stimulate the farmers; otherwise they'll raise foodstuffs not for sale, but only for their own consumption. Therefore, one must find the right balance between freezing prices and freeing them, and this is hard to do.

PT: How has the development of technologies to produce biofuels affected food prices?

SM: I think that in the world there is room for the production of both cereals and biofuels. The problem is how to combine these two things without increasing the number of hungry people in the world. Of course, if one has to choose between these two variants, I will always prefer to feed the hungry people.

PT: What is your mood looking ahead?

SM: 2009 was very difficult for us. The economic crisis, increases in food prices, climate changes, and ongoing military conflicts were all negative factors. But on the other hand, we achieved significant successes in fighting hunger so I look to the future with great optimism.
All rights reserved by Rossiyskaya Gazeta.