Ukraine: Democracy without democrats?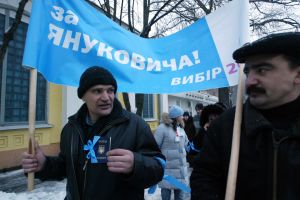 "Ukraine's historic fate is in the balance!" said Mikhail Zelenchuk, the head of the Organization of Ukrainian Nationalists - Ukrainian Insurgent Army (OUN-UPA). "In this situation we support Yulia Tymoshenko against the pro-Moscow Yanukovich."
But is the choice indeed so dramatic? Prime Minister Yulia Tymoshenko and Viktor Yanukovich, the leader of Ukraine's the biggest opposition party, the Party of Regions, survived the first round of elections and faced off against each other on Feb. 7. Yanukovich and Tymoshenko are battling for the sympathies of undecided voters who supported the other four prominent candidates in the first round. In this battle, however, Tymoshenko appears to have gone beyond the limits of the rational.

"She has simply overdone her case, when she hastily suggested a political 'marriage' to Sergei Tihipko, the candidate who got 13 percent of the vote in the first round," said Sergei Mikheyev, vice president of the Moscow-based Center for Political Technologies. "Her speeches in support of Ukrainian nationalists, which she made side by side with her recent arch-enemy Viktor Yushchenko, did not jive well with her previous statements."

Indeed, Yulia Tymoshenko, who until recently had tried to keep a more balanced approach in dealing with Ukraine's troubled past, started to go out of her way in a bid to lure nationalist voters. Her recent appearance at a memorial service for anti-Bolshevist Ukrainian nationalists killed in 1918 raised a lot of eyebrows, since she appeared at the ceremony flanked by lame duck President Viktor Yushchenko, who only a week before had called Tymoshenko and Yanukovich "a Moscow coalition." Obviously, Tymoshenko is trying to enlist the support of nationalist voters, since they tend to be more active and aggressive than Yanukovich's centrist or left-leaning supporters. Nationalists may prove helpful if the election transforms itself into a contest of street actions.

However, support of Zelenchuk and his OUN-UPA is a mixed blessing for Tymoshenko. His group considers itself the successor of the once-dreaded OUN and UPA of the 1930s and 1940s. OUN started its activities in the pre-World War II years on the part of Ukraine that belonged to Poland before 1939, advocating secession of Ukrainian lands and killing Polish officials and other Polish or even Ukrainian persons whom it considered obstacles on the way to this "noble" objective. In 1939-1942, OUN sided with the Nazis, doing for them the dirty work of ethnically cleansing formerly Soviet Ukraine of Poles and – first and foremost – Jews. In 1942, the newly formed UPA (sort of a military arm of OUN) raised its German-provided arms against the remnants of the Polish population in Western Ukraine, the advancing Soviet Red Army and the retreating German battalions. The result was that when the Polish Gazeta Wyborcza published a survey of elderly Poles asking who had inflicted the greatest suffering on them during World War II, "evil Germans and evil Ukrainians" took the two top positions.

The problem is that nationalist voters, especially OUN-UPA supporters, tend to provoke a strong feeling of fear and aversion from the bulk of the population in the southern, eastern and central regions of Ukraine, where the bulk of Ukraine's voters live. As a result, a larger army of active nationalist supporters may further damage Tymoshenko's electoral potential, scaring away the centrists.

In this context, Yushchenko's recent actions clearly benefit Yanukovich, mobilizing his otherwise passive supporters. On Jan. 29, 2010, after his crushing defeat in the first round of voting, Yushchenko declared OUN's late leader Stepan Bandera, considered to be a criminal against humanity in Soviet times, "a hero of Ukraine." Yanukovich condemned the move as an action contributing to polarization of Ukrainian nation. But Tymoshenko, obviously tied by her promises to nationalists, abstained from any reaction, thus allowing Yanukovich to play on the fears of people for whom Bandera was a symbol of anti-Semitism and violence.

Yushchenko's other pro-Yanukovich move was his signing of changes to the electoral law, which makes it impossible for observers of both candidates to declare the results of the vote invalid. Before, for a vote to be declared invalid, no more than 25 percent of observers had to be absent (Yanukovich's Party of Regions and Tymoshenko's party, the Bloc of Yulia Tymoshenko, each provide 50 percent of the observers at every polling station).

Tymoshenko reacted nervously, promising to organize "a popular uprising" if the vote is rigged. The only reason for such a strong reaction was the new law, making a second Orange Revolution illegal from the beginning.

"Obviously, it is bad when electoral rules are changed days before a vote," said Vladimir Kornilov, head of the Ukrainian branch of the Moscow based Institute of CIS Countries. "But Tymoshenko's reaction was clearly too emotional and blown out of proportion. Obviously, this new norm interfered with her plans."

Before the vote, speculation was rampant in Ukrainian media that Tymoshenko planned to declare the vote illegal acting in cahoots with Yushchenko. The result was supposed to be the following: By scheduling a re-run of the election for May, Yushchenko could get four more months in power, while Tymoshenko also gained more time to enlist more support using her powers as prime minister.

The stakes are obviously high also for Yanukovich. "If he loses this time, he will be seen as a weakling, allowing himself to be robbed of the presidential position two times in a row," said Stanislav Belkovsky, the president of the Institute for National Strategy. "But actually, I don't see much difference between the two candidates."

Indeed, neither Yanukovich nor Tymoshenko are democrats. During their six years at the top of the Ukrainian state machine, they showed themselves to be tough fighters, but not real democrats, ready to concede defeat if voters turned away from them. In every situation, they used every tool at their disposal to hold on to power – including all kinds of unprincipled coalitions, making a mockery of justice and boundless populism). In this situation, Yanukovich's coming to power seems even preferable to Ukraine's democracy, since nationalist opposition will remain stubborn and real, while Yanukovich's supporters may be scared away by Tymoshenko's vengeful authoritarianism. It seems certain that whoever wins, democracy will suffer.

The blank check that the West gave to Yushchenko and his Orange team in 2004-2005 did a terrible disservice to the Ukrainian nation. Instead of concentrating on joint movement towards Europe – which does not necessarily mean away from Russia – the Orange politicians polarized the nation, discredited democratic institutions and damaged their own economy and the economy of other European countries by disrupting supplies of Russian energy to the EU. The blame for this terrible state of affairs lies squarely on Western leaders and experts who badly misjudged the situation in Ukraine during the Orange Revolution. President George W. Bush and the EU leaders put their eggs into one anti-Russian basket without giving a good look at who is going to hatch them. The consequences of this move will stay with us for a long time.

Dmitry Babich is a political analyst for RIA Novosti.

Russia Today: Ukraine-Russia: friends will be friends

All rights reserved by Rossiyskaya Gazeta.