Russian 5th generation fighter to rival the US Raptor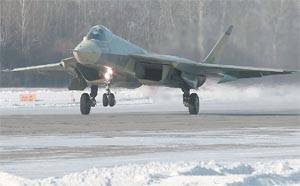 Russian fifth-generation T-50 PAK FA fighter
Russia's prototype fifthgeneration fighter, a joint venture with India, successfully completed its maiden flight in late January. The plane, provisionally called T-50, is the country's first fighter jet based on the stealth technology.
The flight is also welcome news for the country's military industry, which is struggling to develop technologies not based on Soviet designs. The military's 13th test of its new Bulava intercontinental missile failed in December, resulting in a bizarre and much-publicized light show over northern Norway.

The successful test of the T-50 PAK FA fighter, made by state-run Sukhoi, comes amid a spate of crashes involving the company's aging Su-27, which are often blamed on human error. But concerns remain over the new plane's engine, being developed by NPO Saturn, and military analysts say commercial production is still at least eight years off. Pilots should begin training on the T-50 at a facility in Lipetsk as soon as 2013, Prime Minister Vladimir Putin told a government meeting. Mass production should begin in 2015. "It's a remarkable event," Putin said, while acknowledging that the fighter, and particularly its engine, still needed work. "I am personally following it."

Deputy Prime Minister Sergei Ivanov, who oversees the military-industrial complex in the government, praised the jet as "unique" during the meeting. "This jet is equipped with a radically new avionics complex, with an integrated 'electronic pilot' function and promising radio detection and ranging equipment with a phased-beam array," he said.

The plane took off from a test range at the production facility in the far eastern city of Komsomolsk-on-Amur and flew for 47 minutes, piloted by Sergei Bogdan, Sukhoi said in a statement. "We've conducted an initial evaluation of the aircraft controllability, engine performance and primary systems operation. The aircraft had retracted and extracted the landing gear. The aircraft performed excellently at all flight-test points scheduled," pilot Sergei Bogdan said in the statement. "It is easy and comfortable to pilot."

A source in Komsomolsk-on-Amur told Interfax that the T-50 had lowered and raised its landing gear twice during the flight, which "the American F-35 fifth-generation jet couldn't do" on its test flight. But the success comes well behind those of its U.S. competition. Sukhoi won a tender to build the T-50 in 2002, replacing similar projects to build a fifth-generation jet fighter that had been discussed since the late 1980s. The jet will have a speed of 2,000 kilometers per hour and a range of up to 5,500 kilometers, according to Sukhoi.

The T-50 is intended as a rival to the U.S. military's F-22A Raptor, the world's only fifth-generation jet in service. The F-22A, produced by Lockheed Martin and partner Boeing Integrated Defense Systems, first flew in 1997 and entered service in the U.S. Air Force in 2005. "This is a great success of both Russian science and design school. This achievement rests upon a cooperation team comprised of more than a hundred of our suppliers and strategic partners," Sukhoi chief Mikhail Pogosyan said in the statement. He said the plane — along with its fourth-generation fighters — would "define Russian Air Force potential" for decades to come.

"Sukhoi plans to further elaborate on the PAK FA program, which will involve our Indian partners. I am strongly convinced that our joint project will excel against its Western rivals in cost-effectiveness and will … gain a significant share of the world market," Pogosyan said.

Russia intends to increase spending on military equipment by 8 percent to 1.17 trillion rubles ($38.5 billion) in 2010, Putin said last month. Arms export monopoly Rosoboronexport said Thursday that sales of planes and helicopters comprised half of its exports last year, with India remaining its largest client.

Analysts were skeptical, however, that Sukhoi would be able to deliver the jet on time, as testing could take years and concerns regarding the engine remain. "Taking into consideration … the promise by Finance Minister Alexei Kudrin to freeze state spending in real figures beginning from the 2011 budget, it is hardly possible that the PAK FA will join military units earlier than 2018 to 2020," Ruslan Pukhov, head of the Center for Analysis of Strategies and Technologies, a Moscow-based defense research company, told Kommersant on Saturday.

Konstantin Makiyenko, editor of the Moscow Defense Brief magazine, said in an interview with Moskovsky Komsomolets that testing would take another five to seven years, by which time the engine will be ready. "The prototype of the fifth-generation jet fighter is equipped with engines of a transitional generation and does not carry a radar with an active beam array," he said.

The collapse of the Soviet Union and its massive military budget brought hard times on the military sector, although Rosoboronexport says its revenue has risen 2.4 times since it was established by then-President Putin in 2001. The Su-27, a mainstay of the Russian military, was put into service in 1984 and has had a number of high-profile crashes in recent years. The jets were grounded most recently after a crash in the Khabarovsk region on Jan. 14, killing the pilot.

A government investigation was concluded Saturday and found that "human error" was the main cause, a source in the investigation team told RIA-Novosti. Human error was also announced as the official cause of a midair collision of two Su-27 fighters during rehearsals for the MAKS air show in August 2009, which killed Russian Knights pilot Igor Tkachenko and a woman on the ground. Tkachenko wrote in a defense industry publication in 2005 that his flying team was being forced to use planes that "could not be used by combat forces" because of mechanical problems.

The military uses human error to mask the problems that the Air Force is facing, an aviation expert close to air crash investigations told The Moscow Times. He did not want to be identified because of the sensitivity of the subject. "Of course, it is both the low quality of jet maintenance and the errors of pilots that cause crashes all over the world," he said. "But this 'human error' in Russian military aviation has very obvious causes, like poorly trained pilots, their low motivation, the low prestige of service and their low income — none of which the authorities like to talk about."

The source said political reasons often prevail over professional ones in Russian air-crash investigations. "Often you may hear in TV reports, moments after the crash, that a criminal case was opened into violations of Article 352 of the Criminal Code, the violation of flight rules," he said. "It looks like the authorities know from the start what exactly happened but don't want to talk about technical details that are uncomfortable."
All rights reserved by Rossiyskaya Gazeta.