Bolshoi's Spartacus comes to Washington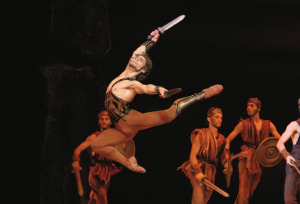 Watching the Bolshoi Ballet's Spartacus in 2010, one can only imagine the reaction of balletomanes and censors at its Soviet premiere in 1968.
When the ballet came to New York in 1975, audiences were breathless. This is one sexy ballet, in which the precisely choreographed battles scenes are mere connective tissue for roiling dances of lust, love and loss.
This week's performance at Washington, DC's Kennedy Center offers a chance for some to reconsider the legacy of longtime Bolshoi choreographer and former artistic director Yuri Grigorovich, also known for his epic Don Quixote and Swan Lake with a happy ending. Grigorovich was in attendance for a sensational performance on Tuesday.
Spartacus (Ivan Vasiliev) leads what appears to be a triumphant slave rebellion against the Roman Army leader Crassus (Alexander Volchkov). But Crassus's lover Aegina, (deliciously portrayed by Maria Allash), has revenge in mind. The god-like Spartacus is surrounded by mere mortals who fall prey to Roman courtesans in the perfect trap.
At times the ballet has the effect of appearing quaint and dated; battle scenes are visually perfect in their geometry, but stilted and frozen in Soviet ballet time. A Roman courtesan in short toga and pink pointe shoes in goose step, lyrical arm in fascist salute, can be disconcerting.
Just as suddenly, the battles are forgotten as ferociously raw choreography evokes the abandon of physical love, the humiliation of defeat, and the intimacy of grief. The Spartacus' lover, the slave Phrygia, is played by Nina Kaptsova. Onstage, Kaptsova's limbs stretch infinitely with emotion. The simplest movements of her final ode to Spartacus are stirring.
The final duet between Spartacus and Phrygia is in the details — Vasiliev's fervent touch of her ankle when she is in full arabesque, then her body curls into him, womblike, her palm on his cheek. These are the moments to take home and wonder.
Vasiliev's is a stunning Spartacus in every respect. His reveling in his own role smells once or twice of bravado, but such moments are followed by sheer humility and all is forgiven. When he kneels on his knees, arches backward in agony and tries to pierce the ground with the knives in his hands, Spartacus is once again made real.
For much of Tuesday's performance, the audience in the first and second tiers perilously peered over to see choreographer Grigorovich in his seat. When he appeared on stage, the crowd was thrilled at the opportunity to thank the master, and the gratitude of the audience was moving.
Spartacus runs through Sunday at the Kennedy Center Opera House
All rights reserved by Rossiyskaya Gazeta.