eBay opens shop in Russia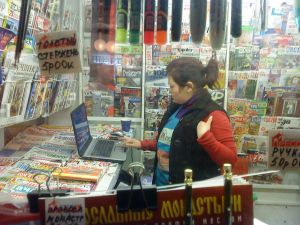 After several years of sizing up the Russian market, US auction web site eBay is finally banging its gavel in Moscow, rolling out a Russian-language version that will enable users to buy and sell goods in rubles.
Users will be able to pay by credit cards through PayPal when the system becomes operational next month, eBay CEO John Donahoe announced during a visit to Moscow this week as part of a US high-tech delegation.

"Opening a Russian-language site for e-commerce... is not a test, but a step in the direction [of creating ebay.ru]," Donahoe told reporters in Moscow on Thursday, a day after holding talks with Kremlin officials.

Donahoe said Russia's e-commerce market was now worth only $5 billion a year, but could grow to $20 billion.

The California-based Internet retailer, which currently operates some 20 eBay-branded marketplaces, is also setting up a online retail platform that will operate in Greece, the Czech Republic, Norway, Denmark and Sweden.

"Cross-border trade has become an increasingly important source of both revenue and profits for us," said Donahoe.

In Russia, eBay's operating system will be more basic at first, taking into account problems with postal deliveries.

"There will be no office in Russia and no special distribution system - all purchases will be conducted from seller to buyer as usual on eBay," said Vsevolod Denisov, a spokesman for eBay in Russia.

Meanwhile, the new European platform will focus only on fixed-price goods rather than auctions, as eBay looks to change the format of the company into a more conventional online store.

According to Reuters, eBay sees acquisitions in the Russian online retail market to help it develop in the country.

"If the right opportunity presents itself, we will be open to acquisitions in Russia," Donahoe said, Reuters reported. He said that joint ventures were also under consideration.

Analysts said they saw good prospects for eBay, given the undeveloped state of the e-commerce market in Russia.

"eBay has a range of advantages that would help it [take market share]," said Boris Kim, chairman on the Committee on Payment systems of the National Association of E-Commerce.

"Its system of controlling deals helps to protect customers from counterfeit and fake listings that are widespread in Russia," Kim said.

eBay's main Russian rival is likely to be online auction web site Molotok.ru, owned by the Allegro è Mail.ru international group. The resource has 200,000 visitors a day and some 5 million items up for sale. In 2009, the site had a total of 30 million users.

Igor Karpachyov, CEO of Molotok.ru, said eBay's entry into the market was an indication of "good prospects" for the sector.

"The appearance of a new international player is always useful for the market as it boosts its development," Karpachyov said.

Development of eBay's business in Russia could face tough challenges, however, due to inefficient local postal systems and likely long delays in delivery - current online shoppers complain of wait times up to three months. This may create extra headaches for consumers, as eBay rules currently exclude the possibility of return purchases past 45 days.

"I can't see any problem in paying online today," said Kim, the Russian e-commerce official. "More and more people have credit cards. On registering the credit card in the PayPal system, you can just pay using a password. You can also create an Internet account by paying in cash at a payment terminal on the street or in stores."

Russian Web sites that have imitated eBay could now see their business under threat, analysts said.

"I'm glad there will be an official eBay site in Russia," Vladimir Toropin, a user of the web site Ebaytoday.ru. "I often buy new gadgets online that we yet to have in Russia, or those that are too expensive here," Toropin said.
All rights reserved by Rossiyskaya Gazeta.