European producers back Russian cars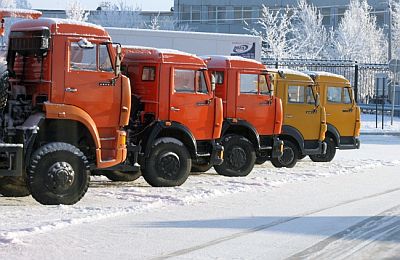 Italy's Fiat has signed a joint venture with Sollers and Germany's Daimler, agreeing to increase its stake in KamAZ. Prime Minister Vladimir Putin – who presided over the signing of the deals in Naberezhniye Chelny, Tatarstan – promised that there would be money available to support the ventures as the industry continues to struggle to stay afloat.
Vadim Shvetsov of Russia's Sollers and Sergio Marchionne of Fiat signed an agreement on Febuary 11 to create a joint venture that will produce passenger cars, SUVs and crossovers. The plant aims to reach peak capacity, or 500,000 automobiles per year, by 2016.

The plant will produce six models on a new Fiat-Chrysler platform, and the new production lines will be added to the existing Sollers plant.

New auto-part production lines launched to support the venture will be housed at a new industrial park and the old Zavolzhsk engine plant, which belongs to Sollers.

The venture, which needs 2.4bn euros of investment – Putin said that the government is working out a plan to finance most of that, 2.1bn euros ($2.9bn), with a 15-year loan – has the potential to gain up to 15pc of the Russian auto market once it reaches capacity, said VTB Capital.

The government is "ready to lend a hand to the companies' joint project, including via financing from the largest state banks", Putin said. He added that the state would continue to help the companies as long as the venture purchased at least 50pc of its parts domestically.

Keeping the domestic auto industry afloat has been a priority for the government's anti-crisis plan, and the state has doled out billions of dollars to struggling automakers while inviting foreign firms in as partners to modernise and invest in the local majors.

Putin also oversaw the signing of an agreement on the KamAZ factory, also in Naberezhniye Chelny. As part of the deal, the European Bank for Reconstruction and Development will get at least one seat on KamAZ's board. Daimler has been a stakeholder since 2008, when it bought a 10pc share for $250m.

Russian Technologies head Sergei Chemezov said the state-controlled conglomerate would like to increase its stake in KamAZ by 12pс, to a total of 50pс, but that the present agreement with Daimler does not allow for a stakeholder to have a controlling share.

Putin stressed that regional authorities play a key role in ensuring the future of KamAZ. "We will need support from the regional authorities in the course of carrying out projects," Putin told Tatarstan president Mintimer Shaimiyev.

At the ceremony, KamAZ signed deals with various government agencies for the purchase of 10bn roubles' worth of its trucks. KamAZ share price rose following announcement of the deals.

First published in The Moscow Times
All rights reserved by Rossiyskaya Gazeta.