Specialist with the Midas touch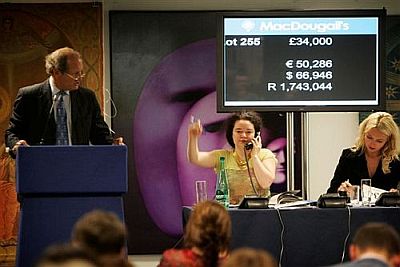 Art to heart: MacDougall's has made a big impact in theRussian market
Sales of Russian art in London last December saw the returns at four major auction houses – Bonhams, Christie's, MacDougall's and Sotheby's – total £39m. Surprisingly, relative newcomer MacDougall's sales were only beaten by those at Sotheby's.
MacDougall's, established only six years ago, now accounts for about 25pc of the London Russian art market, with the British capital accounting for about two-thirds of the global market.

In addition, MacDougall's finished first in the week's main category – 19th- and 20th-century paintings – with total sales of £8.6m. Sotheby's finished second in paintings with £8.4m, and Christie's sold £4.2m in paintings.

MacDougall's also claimed the week's most expensive lot, Nicholas Roerich's "Sangacheling" (circa 1924) which sold to a Moscow collector for £1.13m on a top estimate of £700,000.

For more than 200 years Bonhams, Christie's and Sotheby's have dominated the auction world, and still rule the roost in fine art. Certainly, there are dozens of small auction houses around the globe that make a living by carving out a niche not lucrative enough to interest the big three. MacDougall's, however, is among the few that has gone head-to-head in a highly lucrative category with the market leaders. It has not only profited by the burgeoning Russian art market over the past six years, but it has also revolutionised it.

"When we started six years ago, we created a completely new model of holding auctions," said Moscow-born Catherine MacDougall, co-director of the auction house.

"We were the first to say that Russian art should be sold in collaboration with the top art experts in Russia. They can make authoritative judgments on authenticity.

"This has been crucial to our success because the Russian art market has been awash with fakes."

Authenticity is a big issue today on the market, and MacDougall's said it refuses about 70pc of artworks offered out of concerns they might not be genuine.

MacDougall's came onto the Russian art scene in November, 2004, and today it's the world's only major auction house specialising solely in Russian art.

"It started out as a crazy idea," remembers William MacDougall, a Canadian of Scottish ancestry who is also one quarter Russian – his great grandfather was a Cossack in the White Army, and his grandfather a concert master at the Bolshoi Theatre. Before 2004 the MacDougalls worked in the City. Catherine was an equity analyst whose projects included the privatisation of Gazprom, while William was a bond manager, and later a chief investment officer for a £4bn pension fund.

"Then one day in May 2004 we were having sushi with some Russian art dealers who were complaining about the major auction houses," recalled William, sitting in his London showroom just off of St James's Square.

"That's when we thought: 'Hey, we can do the job better!'"

They organised the first auction in five months, offering 106 lots of Russian 19th- and 20th-century paintings. It was a disaster. Almost no one bid, and they lost £60,000.

The second auction made some money, and every single auction since then has been profitable.

MacDougall's entered the fray at just the right time. In 2004, the market was taking off, and the Russian economy began to boom fuelled by rocketing oil and gas prices.

But it was still firmly in the grips of Sotheby's and Christie's, which had a 95pc share of the market. MacDougall's big break came at its third auction in November, 2005, when it sold the Theodore Kozlov collection from Los Angeles. In the first quarter of the 20th century he was a Russian Seasons dancer in Europe who later settled in California and became a silent film star.

"That auction really made us," said William. "The heir to the Kozlov collection went to the local offices of three major international auction houses, and she was upset that they didn't appreciate the value of the art in her collection. So she found us on the internet."

The problem was that the other auction houses didn't realise that what was listed as "Corvin" was in fact a misspelling of the great master, Konstantin Korovin, whose painting subsequently sold at MacDougall's for $700,000.

"Many of the Russian artist names on this woman's list were spelled improperly, and so the other auction houses didn't understand what they were dealing with," said Catherine.

That November, 2005, auction realised about £2.4m and more than half was that from the Kozlov collection. MacDougall's, however, are quick to share the credit for their success, and give credit to their all-Russian team.
All rights reserved by Rossiyskaya Gazeta.