Sukhoi stealth fighter tested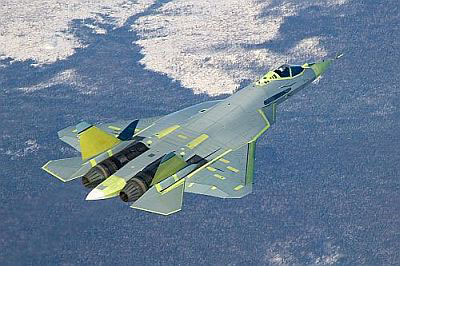 PAK FA shot: Sukhoi's latest fighter could be in service by 2015
Russia's state-owned Sukhoi aviation company has flight tested a fifth-generation fighter jet, the PAK FA. The plane is thought to incorporate stealth technology and comes with air-to-air, air-to-surface, and air-to-ship missiles, as well as twin 30mm cannon.
Set to enter service in 2015, Sukhoi's PAK FA is designed to compete with America's F-22 Raptor, the only other fifth-generation fighter plane in production. The Raptor's $146m (£94m) price tag meant that President Barak Obama cancelled orders for more Raptors in October last year.

Sukhoi won a tender to build the PAK FA in 2002, replacing similar projects to build a fifth-generation jet fighter that had been discussed since the late Eighties.

The jet will have a speed of 1,250mph and a range of up to 3,500 miles, according to information released by Sukhoi.

"This is a great success of both Russian science and Russian design. This achievement rests upon a co-operation team comprising more than 100 of our suppliers and strategic partners," Sukhoi chief Mikhail Pogosyan said.

He added that the plane – along with its fourth-generation fighters – would "define Russian Air Force potential" for decades to come.

"Sukhoi plans to further elaborate on the PAK FA programme, which will involve our Indian partners.

"I am strongly convinced that our joint project will excel against its Western rivals in cost-effectiveness and will… gain a significant share of the world market," Pogosyan said.

Even after the Cold War, Russia continues to produce state-of-the-art arms and has seen exports of military equipment soar in recent years. While still far from challenging America's lead, Anatoly Isaikin, director general of Russian arms exporter Rosoboronexport, says that Russia's contract portfolio rose to £20.5bn from £14bn over the year in 2009.

The state hopes to use the arms industry as a hub around which to build a competitive hi-tech industry.
All rights reserved by Rossiyskaya Gazeta.