An open exchange of books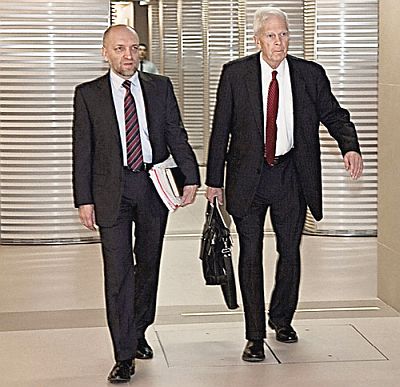 Alexander Vershinin and James Billington in Washington, D.C.
A new exchange between the Library of Congress and the Boris N. Yeltsin Presidential Library could result in some surprising access to previously closed materials for both the United States and Russia.
The meeting between Presidents Dmitry Medvedev and Barack Obama last summer has led to a promising cooperation between the U.S. Library of Congress and Russia's new Boris Yeltsin Presidential Library. Some previously closed archives should open to scholars in both countries.

The Library of Congress is eagerly anticipating access to American silent films owned by Russia, but not seen here since the 1920s. Only a tiny fraction of the silent films ever made during a 40-year heyday exist in the United States, according to the Library of Congress. Most of these films were destroyed or cannibalized at the time to make new movies. Even though silent films were not exported to Russia for long, the Russian Film Archives owns well-maintained originals.

On the American side, the project is led by Dr. James H. Billington, the eminent Russian scholar and Librarian of Congress. In December, he met his Russian counterpart Prof. A.P. Vershinin, General Director of the Yeltsin Presidential Library.

For half a century, Billington helped Americans understand the U.S.S.R., and now Russia, through his writings and his work at the Library of Congress, and his tireless efforts at cultural exchange. In his 80th year, he is still at it.

"There are two categories of people who will benefit, specialists from IT technologies and specialists in law and the development of statehood," Vershinin said. "But there is also a broader approach. Thanks to this cooperation, we are going to be able to access more information about America and Russia."

Vershinin's staff is also developing a "Russians in America" history project for their digital library. "We hope to find out more about how Russians came of age in America," he said.

On the American side, scholars will have more access to pre-1917 materials online. Monographs, newspapers and periodicals are being digitized by the Presidential Library. There is no indication yet whether access to Soviet-era archives will be more accessible.

"We have a huge audience," said Billington. "We hope, in general, this collaboration will continue to enrich our understanding of each other. We have a common interest in new media, and we are mutually trying to open access to information that was formerly closed. The more information we have, the broader the basis of our cooperation will be."
All rights reserved by Rossiyskaya Gazeta.