Living in Moscow's endangered utopia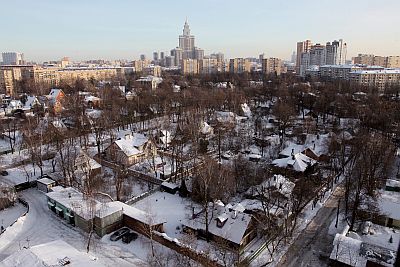 Visitors to Russia's capital find it hard to imagine: Sokolremains a village locked inside a bustling metropolis
Like other cities, Moscow is in love with the wrecking ball. Historic Moscow is more or less gone and the administration has turned to residential neighborhoods like Sokol. The Russian media has expressed outrage; our correspondent lives there.
It's snowing again in Sokol, our "Artists' Village." It was snowing when we moved in, nearly two years ago. This log cabin, near the heart of the metropolis, with its view of birches and tower blocks, is definitely home for now. It's the first time we've ever had a real garden, a miracle in congested, high-rise Moscow. We could hardly believe our luck as violets, daffodils and tulips started to appear. In summer, cascading orange blossoms and carpets of lilies of the valley bewitched our city-hardened senses.
Sokol village is quite a miraculous place. Built as a utopian experiment in the 1920s, its tree-lined streets still have a rural feel. In a triangle between the thundering Leningrad and Volokolamsk highways and a sooty cargo railway, this small collection of more than 100 cottages is unique.
The name Artists' Village is a misnomer. Scientists, politicians, geologists and actors were all among the earliest inhabitants of this cooperative building venture. There were at least two reasonably well-known artistic households, however Sergei Gerasimov, famous for his colorful if sycophantic portraits of Soviet leaders, lived in a castle-like house of his own design on Levitana Street. The Faidish family still lives around the corner and we can see numerous sculptures through their windows. Andrei Faidish-Krandievsky created the figure of a pioneer cosmonaut at the foot of Moscow's towering Monument to the Conquerors of Space. But it was probably the decision to rename the roads after famous 19th-century Russian painters, like Vrubel and Polenov, that gave rise to the settlement's nickname.
There were several architects living in the original community, including Nikolai Markovnikov, who designed our house. The local museum has a photo of him sitting in the pinewoods where the village was taking shape. The project became a showcase for different kinds of houses: wooden izbas, cozy brick cottages, even a small, plastered Art Nouveau-style mansion. The Swiss-French architect Le Corbusier experimented here with a pinkish stone house, to see how well it would withstand the Russian climate.
The house Le Corbusier built is one of many that have been destroyed by developers in recent years to make way for monstrously oversized neo-classical palaces or bristling ultra-modern fortresses. Moscow architectural expert Maria Kiernan regrets that wealthy Russians are able to pay off planning regulators, she said, and build "frequently tasteless, pretentious structures" where "size and ornament" are the most important features.
The rate of demolition and new building is intensifying. The noise of construction competes with the birdsongs. Moscow Mayor Yuri Luzhkov's brother-in-law is among the new residents who have bought up the plots where two smaller cottages once stood. Disproportionate development both inside and outside the village is in danger of overshadowing the total effect, which was carefully planned as an early Soviet garden city.
Even the trees lining the diminutive streets were planted with an eye toward color and harmony within the overall design. Each lane, which narrows as it leaves the village center to give an effect of rural distance, is different: The central avenue has golden maples and small-leaved lindens. Shishkina Street has ash, and our own little lane has red-leaved sugar maples. Autumn is stunning.
Winter has proved slightly more challenging. Although we are within walking distance of Sokol metro station, the school run involves a bus and a tram with a walk at each end. Our dedicated family reliance on public transport is severely tested when the temperatures drop below minus twenty. The antiquated heating system also struggles with the Moscow weather. In summer, it's hard to keep cool, but when icy winds blow through the cracks around the windows, watching TV becomes a three-duvet affair. The huge logs of the original house are as solid as ever; it's the more recent extension on the back that has the gaps.
Our neighbors are a mixture of rich Russian and foreign families with a dwindling number of the original villagers, like the reclusive professor in the derelict cabin next door. For the Genest-Quiniou family from Canada, long-term residents of Moscow, living in the village represents "the country in the city. A dream come true."
There is something dream-like about living here. A friend first spotted the tiny, handwritten advertisement for a house in Sokol, pinned to a corner of the school notice, just at the moment when we were being evicted from our previous apartment. She insisted we have a look, since "chances like this come only once a lifetime." Next day, we had a new home.
It's snowing harder now, temporarily obscuring the skyscraper next door, which is so tall it needs lights on top to warn aircraft. A fieldfare is hopping on the creeper-covered garden wall, trying to find winter berries. The contrast sums up what I have come to expect from modern Moscow: chaotic urban planning on an Ozymandian scale with fragments of beauty in forgotten spaces.
All rights reserved by Rossiyskaya Gazeta.