Putin's electric shock for oligarchs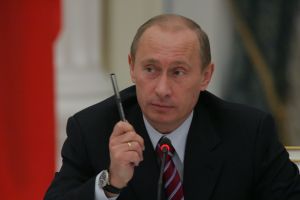 The prime minister, who last year scolded the Rusal CEO over wage arrears and the year before promised to send a doctor to sort out another metals baron, Igor Zyuzin, on Wednesday named and shamed four of the country's top investors - Vladimir Potanin, Mikhail Prokhorov, Viktor Vekselberg and Leonid Lebedev - for "eating" government funds and not investing in the country's electricity sector.
"Economically, he's doing well," he said of Prokhorov, who topped the Forbes Russia rich list in 2009. "As they say, he cashed out. So now he is visiting different offices, he dropped by to see me the other day. I have very good relations with him. He is looking where to invest his funds. But he must fulfil his [power investment] obligations."

Putin was speaking at an electricity industry meeting after re-launching one of 10 hydro-electric units at the giant Sayano-Shushenskaya hydroelectric plant in Khakasia, Siberia, where an accident last August killed 75 workers and crippled electricity supplies in the region. The plant is scheduled to resume full operations only by 2014.

Putin threatened heavy fines and even prosecution for those oligarchs who failed to invest.

"Opposite of Mechel"

Analysts said there was an unwritten agreement by which businessmen would spend billions of dollars to buy up the constituent parts of Unified Energy System, the state's electricity monopoly, in exchange for market liberalisation and a framework for a viable capacity market.

The government, Putin said, had held up its end of the bargain by passing a decree on Wednesday stipulating the rules for the long-term capacity market. Businessmen who didn't honor their commitments should feel free to "go back to the old system of tariff regulation," Putin said.

"This was the exact opposite of the Mechel situation," said Derek Weaving, an electricity analyst at Renaissance Capital, referring to Putin's 2008 attack against Mechel, a leading metals and coal firm, which caused its stock to plunge 38 per cent in a day. "If Putin's remarks are to have any effect, it will be to push share prices higher. ... That [he] has so publicly and directly addressed [corporate governance] will ease these concerns."

Foreign investors praised

Flanked by Igor Sechin, the influential deputy prime minister who oversees the energy sector, Putin first praised the 6.4 billion-ruble ($210 million) repair job carried out at the Sayano-Shushenskaya plant.

As for energy investment programmes in general, "this is not as positive as we wished it would be," Putin warned. "And I must tell you, ladies and gentlemen, some not very pleasant things."

Praising state and foreign companies, Putin proceeded to read off the names of domestic investors that had "not done what they promised to do, after getting state money."

Among the dozen companies Putin named were OGK-3, controlled by Vladimir Potanin's Norilsk Nickel, and TGK-4, controlled by Mikhail Prokhorov's Onexim.

After criticising Prokhorov, Putin turned to Potanin, Prokhorov's former long-time business partner.

"He took giant assets for free," Putin said of Potanin. "But nothing has been done as far as his investment program is concerned. He bought [OGK-3] for 81.7 billion rubles. And he got 81.7 billion in state [handouts]. Essentially, he got a huge asset for free. Alright, so he got a huge asset for free. But there are obligations regarding investment problems. And nothing is being done."

In all, Putin said, 66 billion rubles ($2.2 billion) out of the 450 billion roubles raised by the electricity selloff had been used for "speculation".

Electricity stocks declined slightly soon after Putin's statements, with shares of Potanin-controlled OGK-3 slipping 1.3 per cent. Most power stocks closed on Wednesday broadly flat or slightly higher after a correction.

Message for the oligarchs

Even if it was harsh, electricity experts generally welcomed the speech as spurring investment in desperately-needed new generation capacity.
The government's proposals on the long-term capacity market, spelling out how much generation companies will be paid for new capacity, give incentives to invest, said Weaving, of Renaissance, which is 49 percent owned by Prokhorov.

"We've been waiting for a long time for this document, and its purpose is to give long-term security to investors that they will get paid at least a certain price for their capacity," Weaving said in an e-mail, adding that Putin's comments would help to funnel more private capital into the energy sector and clean up the rules of the game.

"The message to the oligarchs is that, whatever else may be tolerated in Russia's immature business environment, the Putin government is determined that power sector reform will be played out according to the rules," Weaving said.

It was unlikely that power assets would be taken away from private investors, Weaving said. The only way that would happen is if proprietors "prove to be utterly inept in managing them," he said.

"The government has shown... it can use both the stick and the carrot to motivate investors," said Igor Goncharov, electricity analyst at UBS. No "significant direct monetary penalties or re-privatization" are likely, Goncharov said, adding that instead, the "non-behaving investors we be punished by getting less carrot."

VTB called the approval of the long-term capacity market "a positive move and an important milestone for [generating companies] as it might improve profitability."

Some experts said the government was partly to blame for the lack of investment, as it had dragged its feet on capacity market rules.

"Generators postponed investments because the government delayed adoption of the long-term capacity market rules," said Dmitry Bulgakov, an electricity analyst at Deutsche Bank in Moscow. "Gencos need visibility when they invest billions of dollars into new equipment."

Private investors would probably need to see more details of Putin's plan before making new commitments, Bulgakov added
All rights reserved by Rossiyskaya Gazeta.