Adopted boy's death in US stirs Russian anger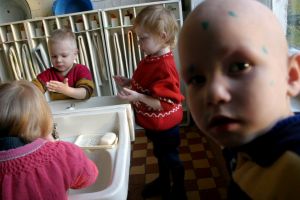 U.S. police have arrested the adoptive parents of a 7-year-old Russian boy for homicide after an autopsy found more than 80 external injuries on his malnourished body, Channel One state television reported March 2.
U.S. police have arrested the adoptive parents of a 7-year-old Russian boy for homicide after an autopsy found more than 80 external injuries on his malnourished body, Channel One state television reported Tuesday.

The case reignited Russian anger over U.S. adoptions, a delicate issue in U.S.-Russian relations in recent years, and could tangle efforts by U.S. President Barack Obama to "reset" ties that deteriorated under the previous administration.

Complicating matters, the boy died in August, and the Education and Science Ministry, which oversees adoptions, accused U.S. authorities of failing to notify their Russians counterparts within the time frame required by international law.

Pennsylvania parents Nanette and Michael Craver adopted Chelyabinsk-born Ivan Skorobogatov, whom they named Nathaniel, and his twin sister in 2003, Channel One reported.

The boy was hospitalized Aug. 20 after Michael Craver, 45, found him lying unresponsive on his bed that morning, U.S. media reports said. He was taken off life support at his parents' request Aug. 24 and died the next day.

Craver and his 54-year-old wife were arrested Feb. 26 and face charges of homicide, conspiracy and child endangerment. A local prosecutor said the arrests were made so many months after the death because the autopsy report was only finalized in late February, Pennsylvania's Patriot-News newspaper reported Feb. 27.

The autopsy found more than 80 external injuries, including 20 to the head, the report said, citing the arrest affidavit. It listed his cause of death as complications from traumatic brain injuries and identified malnutrition as a contributing factor.

The parents have told investigators that the boy was psychologically disturbed and injured himself by purposely banging against walls and falling on the floor.

Foreign Ministry spokesman Igor Lyakin-Frolov said cases of Russian children dying in adoptive U.S. families "have become systematic recently," Interfax reported Wednesday.

From 1996 to March, at least 15 Russian children appear to have died at the hands of their adoptive foreign parents, including 14 in the United States and one in Canada, a spokesman for the Education and Science Ministry said by telephone Wednesday.

U.S. authorities failed to report the boy's death to Russian authorities within the time period set by law, a senior ministry official, Alina Levitskaya, told journalists, RIA-Novosti reported. She did not elaborate.

Children's ombudsman Pavel Astakhov criticized "the poor system of control and reporting on the fate of adopted children" and wrote to the U.S. State Department for information about the investigation into the boy's death, Interfax reported.

Astakhov said international law requires foreign agencies involved in the adoption process to make an annual report to Russian authorities about the life of an adopted child, but U.S. agencies often refuse to do so, citing Russia's membership in the Hague Convention of 1961 and the United Nations Convention on the Rights of the Child, which contradict each other on the subject.

The Cravers regularly reported to Russian authorities during the first three years after they adopted the children, Levitskaya said. Russian authorities had "no reason to request extra information" from the Cravers, she added.

She noted, however, that the Cravers briefly lost custody of the boy and his sister in 2008 during an inquiry by child-welfare workers.

A number of Russian children who are put up for adoption are sick or disabled.

The boy's sister is in the care of local authorities, Channel One said.

A preliminary court hearing into the boy's death will be held March 31, Channel One said.

Of the 113,748 children placed in families in 2008, 4,125 were adopted by foreigners, according to the latest available data on the Education and Science Ministry's web site. Russians, meanwhile, adopted 9,045 Russian children in 2008, while the rest were placed in foster families.

In 2005, after the well-publicized deaths of several Russian children in the United States, influential State Duma deputies called for a moratorium on all foreign adoptions. The moratorium never happened, but foreign adoption agencies began facing greater bureaucratic hurdles. Two U.S. adoption agencies were barred from operating in Russia in July 2008 after a 21-month-old Russian boy died after being left by his adoptive U.S. father for nine hours in a sweltering car. In December 2008, a Virginia court acquitted the father of involuntary manslaughter in the death of his son.

In 2008, about 161,000 Russian children suffered from violence from their natural or adoptive parents, and 1,914 died, according to the children's ombudsman's office. The report didn't distinguish between Russian and foreign adoptions.


All rights reserved by Rossiyskaya Gazeta.