Karelia will return in your dreams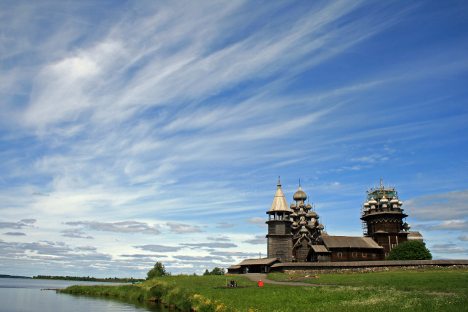 The idea of the Karelian vacation has been slightly transformed by the local tourism companies, which present the region to potential clients as exotic or even extreme tourism. However, Karelia is far from dangerous. About the worst thing that could happen is falling off your raft during a river trip.

Those who prefer to sightsee rather than enjoy nature will also find something to love in Karelia. It is home to a wide variety of old Russian churches and monasteries, including the famous wooden church on the island of Kizhi, which was reportedly built by one man with an axe using not a single nail. Legend holds that when he had finished his work, the architect threw his axe into the surrounding lake so that such a beautiful church could never be built again. The guides will tell you that there are, indeed, some nails holding the decorative panels on the roof, but this is no reason to miss a visit to this magnificent building, which tries to fool guests with its history.

The region is worth a trip in both summer and winter, when possible activities include riding in a sled behind a dog team and running from the banya to an ice hole and back. Summer hikers can visit the Kivach waterfall or the Demon's Chair plateau. And it is possible to drink the salubrious waters of Marcial Springs all year long. I would also recommend trying local fish – being close to Finland, Karelians have learned the best ways of cooking it – and have maybe even beaten the Finns at their own game.


All photos by Vsevolod Pulya
Click to stop the slideshow. Click again to continue


After spending only a few days in this incredible place, you'll suddenly find Karelia returning to you in your dreams. That's also a line from the most popular Russian song about Karelia, which you can listen to here:


Getting there

The best way to start exploring Karelia is from the capital of this republic – Petrozavodsk. You can take an overnight train from either Moscow or St. Petersburg. You can also get to Petrozavosk by air from Moscow; the flight will take around 2 hours.


View Larger Map

Where to stay

The Severnaya (www.severnaya.onego.ru) Located in the heart of Petrozavodsk, the Severnaya has a nostalgic Soviet atmosphere. There are lots of tourism agencies nearby in case you want to book a day trip elsewhere in the region. Rooms range from $26-$250 per night.
The Karelia (www.karelia-hotel.ru) This newly-built "skyscraper" sits on the edge of Lake Onega. Rooms range from $135-$200 per night.
Both hotels have three star ratings.

What to do

The Karelia Tourism Bureau (www.ticrk.ru/en) gives ideas for what to do in the area and also provides a listing of local tourism agencies.

The Russian Karelia Trails travel agency (www.travel-to-russian-karelia.com) also arranges tours throughout the region.
All rights reserved by Rossiyskaya Gazeta.