Georgia's "War of the Worlds"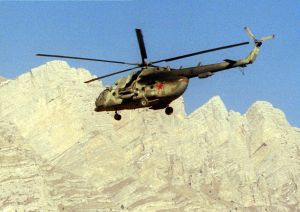 For the residents of northern Georgia, images of Russian tanks rolling towards them appeared all too real when Imedi TV beamed them into their living rooms.
But, unknown even to President Mikheil Saakashvili's grandmother, the broadcast on Georgia's third-biggest channel was a mockumentary, intended to unite public opinion in the face of a common threat.

And, as the residents of Gori - a city affected by fighting in the 2008 conflict over South Ossetia - dived into their cars and blocked up petrol stations prior to fleeing wherever they could, it steadily emerged that there wasn't a single fact to back up the broadcast.

The spoof news program portrayed Russian tanks rumbling over the border, and went on to describe the Saakashvili's assassination and the bombing of major towns.

Despite warnings before and after that it was a simulation - and despite the fact that footage of the tanks was clearly from the summer, not the last days of winter - panic followed, with audiences stampeding out of a Tbilisi cinema and calls to the emergency services skyrocketing.

International commentators likened it to Orson Welles' infamous "War of the Worlds" broadcast which panicked radio audiences in 1930s America into believing Martians had landed.

That prompted conspiracy theorists to allege that the 1938 broadcast was a psychological experiment backed by the Rockefeller Foundation.

And modern commentators were quick to see the Georgian authorities' hand in the weekend TV show, with the Kommersant newspaper calling it a "scandalous experiment".

Russia's envoy to NATO Dmitry Rogozin told RT television it was "part of an information war" waged by Saakashvili.

"This was a grandiose provocation which will leave its trace in Georgia's public opinion," Rogozin said. "This means attributing a stable image of [Georgia's] enemy to Russia and Russians, this means tensions regarding the borders between Georgia, South Ossetia and Abkhazia."

He added that the show should make NATO realize it could not work with the current Georgian government.

NATO officials said they could make no official comment on the report, even as opposition parties in Georgia prepared to sue Imedi.



In Britain, The Guardian newspaper claimed the broadcast played into the hands of the Russian media "which has long portrayed Saakashvili as a dangerous tie-chewing maniac", while Die Zeitung speculated on a German TV channel running a similarly graphic report about a terrorist attack at an airport.

"That is impossible to imagine," the paper concluded.

Saakashvili said the report was "insulting", and added that it had frightened his grandmother.

"My grandmother, though she had seen me shortly before the report, got worried and nervous and of course a lot of people got nervous," he said.

But he warned that the report was "very close to the real situation" facing the country as it continues to oppose Russia's recognition of the breakaway republics of Abkhazia and South Ossetia.

Meanwhile, Imedi TV apologized for the broadcast, claiming it had been intended to illustrate what could happen "if Georgian society is not brought together against Russia's plans."

Alyona Topolyanskaya contributed to this report
All rights reserved by Rossiyskaya Gazeta.