From Esso to Ossora (slideshow)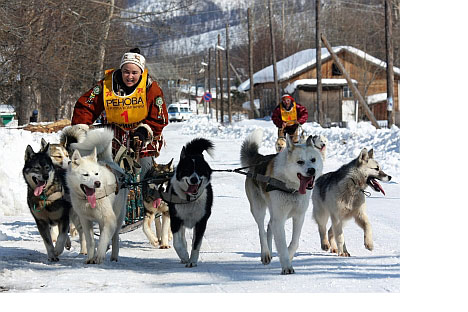 Racers have to cover 950 km.All photos by Victor Gumenyuk
This year the race has been given the status of an official holiday in the Kamchatsky region.

The day before it started there was an official opening and a 10-kilometre race. Several thousand people took part in the events devoted to the start of the race.

Twenty dog-team drivers took part in the first race. They included Alexei Kuzmitsky, Governor of the Kamchatsky region, who was one of the drivers of honour in the last race. He and his team finished in 14th place. He noted that the course was not very difficult and that he managed to cover it without mishap.

The "Beringia" race is a noteworthy example of preserving the traditions of the peninsula's indigenous peoples. It is also an example of how thousands of people can be inspired by an excellent idea, said the governor.

The main race finishes in the settlement of Ossora in Karaginsky district on 28 March. Seventeen teams from the Kamchatsky region and the Chukotka autonomous region are taking part in the "Beringia 2010" extreme race. The racers will be competing for the Kamchatsky region Governor's Prize – a Russian UAZ Patriot off-road vehicle. The prizes for second and third places are a Yamaha snowmobile and an outboard motor.


All photos by Victor Gumenyuk
Click to stop the slideshow. Click again to continue


The first "Beringia" race was held in January 1990, and since then it has become a tradition. The "Beringia 90" race was 250 kilometres in length. The "Beringia 91", at 1,980 kilometres, and the "Beringia 92", at 2,044 kilometres, were entered in the Guinness Book of Records as the world's longest dog-drawn journeys. Today the contest remains the longest dog-team race in Eurasia.

For more information on the traditional "Beringia" race in Kamchatka, the participants, the length, the distance and its 20-year history, go to www.beringia.ru.
All rights reserved by Rossiyskaya Gazeta.