Winds of change in Russian-Georgian relations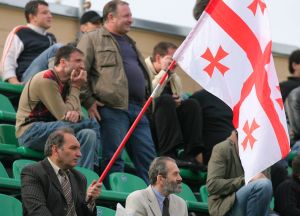 A weak wind of change seems finally to be blowing in Russian-Georgian relations. On March 1, after a hiatus of three and a half years, the Kazbeg-Upper Lars checkpoint on the Russia-Georgia border reopened. This checkpoint is located just 38 km (25 miles) from Vladikavkaz, the capital of North Ossetia, on the Georgian Military Highway. This highway is the most important strategic artery in the Greater Caucasus Mountains. It winds through the Terek Valley, crosses the Darial Gorge, the Cross Pass, the White Aragvi River valley and ends up in the Georgian capital of Tbilisi.
Meanwhile, Nino Burjanadze, head of the Democratic Movement for a United Georgia party, became the latest Georgian opposition leader to visit Moscow. In October 2009 former Prime Minister Zurab Noghaideli, now head of the Movement for a Just Georgia, also visited Moscow, and on Feb. 9, he signed a cooperation agreement with Russia's ruling party, United Russia, an unprecedented step for a Georgian politician. Late last year, Georgia's United Opposition leader Levan Ganchechiladze, a presidential candidate in 2008, announced that he was ready to meet with Prime Minister Vladimir Putin and President Dmitry Medvedev for the sake of his country. However, Burjanadze's Moscow visit, as well as her meetings with senior government officials, was a signal event for both Georgia and Russia. Unlike Noghaideli, who became a public politician only after leaving his post as head of the Georgian government, Burjanadze has been a staunch opponent of Russian foreign policy for many years. Along with Mikheil Saakashvili and Zurab Zhvania, she was a living symbol of the Rose Revolution and, until the 2008 parliamentary elections, an ally of the current president of Georgia. The fact that Burjanadze has now said that Georgia must cooperate with Russia for its own good should not be underestimated.

The significance of Noghaideli's return visit to Moscow should also not be underestimated. This time, the former prime minister arrived in Moscow not with abstract declarations and assurances of friendship, but with the intention of discussing the possibility of opening a direct air link and lifting the embargo on Georgian goods. In this connection it is worth noting that even Georgy Baramidze, the State Minister for European and Euro-Atlantic Integration, made an optimistic prognosis with respect to the return of Georgian products on the Russian market.

Do these various "signals" suggest that Russian-Georgian relations are beginning to emerge from their current impasse? Before this question can be answered, there needs to be a clear idea of what steps the improvement of relations can take. It is unlikely that either the reopening of the checkpoint on the Georgian Military Highway nor the Moscow visits of Georgian opposition leaders will advance political relations between the two countries at all. This was clearly intimated by officials from the Georgian Foreign Ministry in their comments on the checkpoint's reopening.

Moscow and Tbilisi still have diametrically opposed views on the situation in the breakaway republics of Abkhazia and in South Ossetia. According to Georgian legislation, these territories are "occupied" and the only possibility for restoring diplomatic relations with Russia is their "de-occupation" (a special term recently introduced by Georgian politicians and diplomats). Moscow recognized the independence of Abkhazia and South Ossetia on Aug. 26, 2008: To withdraw that legal recognition is unacceptable. Moscow has established diplomatic relations with these former autonomies of Georgia, has sent ambassadors there and begun discussing the possible installation of military bases. Moscow signed an agreement with Abkhazia in February and is preparing a similar agreement with South Ossetia. Moscow and Tbilisi are living in different realities and different political dimensions. Here there are no points for compromise, just as there are none during the Geneva negotiations for stability and security in the Southern Caucasus. Moscow is demanding that a legally binding document be signed concerning a rejection of the use of force, while Tbilisi continues to demand a "de-occupation."

However, acknowledging the fundamental impossibility of reaching a compromise on political and legal questions does not at all mean that other, humanitarian and socio-economic contacts will not be established. In the end, any ethno-political conflict is not hermetically sealed. The history of such conflicts has shown that problems of political status can go unresolved for years, while the opposing sides search for and implement a broad spectrum of contacts. For example, official Nicosia, with the help of Athens, has hindered the recognition of the Turkish Republic of Northern Cyprus, however, the development of contacts between the two communities on divided Cyprus has both influenced the general normalization of Greco-Turkish inter-state relations and promoted the Turkish opening of the northern part of the island. Now tourists may visit it from the recognized Greek side. The problem of the political status of Transdnestria, a breakaway territory in Moldova, has been unresolved since 1991 with tensions between Kishinev and Tiraspol often reaching the boiling point. However, this does not prevent regular economic contacts, including transport links, between populations separated by the Dniester River. Armenian-Turkish relations are also complicated and contradictory. Although the land border between the two nations is currently closed, there is a direct flight from Istanbul to Yerevan, and in summer from Yerevan to Antalya, while the volume of trade is estimated at $200 million.

The March events show that Russia and Georgia may decide to create a new menu of bilateral relations. On this menu, Abkhazian and Ossetian dishes will not be featured. Indeed, they may be taken off the menu altogether while economic cooperation, an easing of the visa regime and socio-cultural ties take precedence. On these fronts, there have also been some substantial shifts in Moscow's behavior. At one time, Russian government officials tried to cultivate a Georgian opposition inside Russia by supporting such figures as former Georgian Minister of State Security Igor Giorgadze and businessman Alexander Yebralidze, but today they willingly engage with the opposition acting inside Georgia. Moscow is beginning to realize the usefulness of employing instruments of "soft power." Instead of conversations about a "Georgia that has been lost forever," Russia can, and must, conduct a dialogue with those who are ready to talk while sidestepping complex questions of political status. Many humanitarian concerns do not have to be discussed with Saakashvili, who is so unwelcome in the Kremlin. The Georgian Orthodox Church is open to contacts of that nature, as are the media, and representatives of non-commercial organizations and public initiatives.

Resolving these matters does not require a definitive solution to the problem of refugees and forced migrants, much less a determination of political status here and now. All parties in the conflict may save face and earn points for working constructively. And most importantly, humanitarian mechanisms may lead to the creation of those measures of mutual trust without which no negotiator, no matter how skilled, can achieve a positive result.

Sergei Markedonov is a political scientist and expert on the Caucasus and Central Asia.
All rights reserved by Rossiyskaya Gazeta.