Eastern flair and great shashlik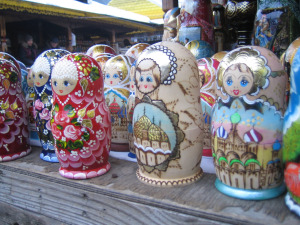 Do you need a matrioshka? Maybe as a gift or souvenir, or just for yourself?

Only a few metro stations off the Ring Line, a shoppers' dream comes true. Izmailovsky market is not just a great place to get typical Russian souvenirs or cheap DVDs, it's worth a trip just to spend an afternoon there. It's something like Disneyland for market-maniacs and while exploring the market, I wondered if we were still in Moscow. The small booths and houses look a little like a historical village, and above the market an impressive complex (Kreml) with colorful towers and turrets dominates the skyline. On some of my trips around Moscow, I fell in love with the smaller towns around the capital. They have something exotic and charming that helps you forget the hectic life in the big city. Exactly that feeling comes again while I am straying around the Izmailovsky market.

Honestly, I didn't find this place by myself. I would probably never have known about it if it weren't for a famous Web site for travelers, where I stumbled over some postings from people recommending this market highly. Naturally, I expected the market to be a great tourist trap and probably my boyfriend thought the same, since his motivation to go was quite limited. My first impression was clouded by the grey weather and the large puddles from the melting snow we had to jump over to get to the market. Even though the towers of the newly built Kreml contruction looked charming, the dirty ground at the entrance was not very inviting. From a collegue I heard that the market had burned down at least once in the past. Maybe that's why some buildings look quite newly reconstructed.

Next to the entrance, a billboard says that the bear show is not taking place in winter, this was obvious, as there were no bears to see. Another billboard advertises the local Vodka Museum, which is located in the Kreml. It's understandable that some tourists would back off here now. But could the postings of travellers by so wrong? Didn't they rate this place with 4 stars out of 5?

The actual market is located behind cast iron garden gates. For 10 rubles, you get access to a wonderland of souvenir shopping. Old army stuff (boots, googles, badges, gas masks, caps, heads, etc), DVDs for 100 roubles (3 dollars), jewelery, Siberian handicrafts, fur caps, samovars, matrioshkas and more – you can easily rely on this market to fulfill all your souvenir shopping duties. Between, frankly speaking, tourist junk, we found also authentic, interesting things like Soviet coal-heated samovars, beautiful picture books about Russian culture and an entire flea market, crammed with antique pre-revolutionary treasures. Its hard to believe that we never left Moscow. This place is uncomparable to the modern tourist shops in the center. A friendly lady with a rather shabby-looking cart offers tea for 15 rubles. Its hard to guess her age, but after initial shyness she agreed to be photographed.


All photos by Evy Hua
Click to stop the slideshow. Click again to continue


I have to admit that I like to shop, and I even like to buy souvenirs although I see Moscow as my second home. Also the atmosphere of this market motivates me to take something home to remember the scene. My eye fell on a matrioshka featuring the Soviet leader, which we bought. With it, we also got a hint from the standowner as to where to get great shashlik. That's how we met Zair, a 25-year-old immigrant from Tajikistan who prepares, in our opinion, probably the best shashlik in Moscow. We ordered a variety of shashlik and took a seat in the little room above the grills. The interior is something you either hate or love. Little stuffed animals are hung upon the wooden construction of this little guest-room with wooden benches and tables. The smell of smoke from the grill fills the air, giving the place something rural and unique. From time to time, an old lady comes to pick up the plastic dishes and to clean the tables. Zair climbs up personally the small wooden staircase to serve the shashlik. On the other tables you can hear tourists and some Russians with plastic cups and a small bottle of vodka. This place seems really to be loved by tourists and locals alike.

Four days a week, Zair prepares shashlik for the visitors to Izmailovsky. Barbecue upon barbecue line up here. "The competition here on the market is high," says Zair while pouring us a drink on the house. His girlfriend is working on a grill further down the line which his "father-in-law" would like him to run. The barbecue he works at belongs to a guy from Moscow with obviously Ukrainian roots. Zair friendly calls him Chachol, a usually rather offensive name for an Ukrainian in the Russian language. Zair seems happy with his job. Ten years ago he came to Moscow, where he basically lived off water and bread on the street. Luckily he got this job, which he has now had for six years. His brothers live in Siberia, his parents are still in Tajikistan. "We can make up to $5,000 dollars a month here, in summer even up to $10,000". While my boyfriend looks with a mixture of disbelief and started wondering if he should start working in the shashlik business, the man from whom we bought the matrioshka interrupts our conversation. The market people are closing their stands and he and Zair have a carpool.

We slowly leave as the stands are closing, with all intentions to come back for another shashlik – and for the Vodka Museum. (to be continued…)

The catch of the day:

So we are really not great bargainers, and we surely did not buy all of this, but here are some examples of our research what Izmailovsky offers. The prices are usually initial prices or prices they offer without fierce negotiations:

Medium-sized Matrioshka with Soviet leaders: 500 rubles (aprox. $17/12 Euros) (initially 700 rubles)
Siberian-style tea-box, approx 14cm: 300 rubles (and a small box as a gift to it) (aprox. $10/7.50 Euros)
DVDs: 100 rubles or 7 for the price of 6 ($3.50 or 2.50 Euros)
T-shirts with Russian or Soviet motif: 400 rubles (initial offer) ($13 /10 Euros)
Fur caps: starting at 1,000 rubles (aprox. $34/25 Euros)
Optical computer mouse with Russian-style painting: 750 rubles (initial price) (aprox. $25/19 Euros)
Electric samovar: starting at 5,000 roubles (aprox. $170/126 Euros), coal-heated ones starting at 10,000 roubles (aprox. $340/252 Euros) - (antique though, as coal-heated ones are apparently not produced any more, only on request)
Beautiful and a great variety of chess sets: starting at $1,200 rubles ($40/30 Euros) for small ones
Do-it-yourself matrioshka: (medium-sized wooden plain matrioshka, paint included) for 220 rubles ($7.50 dollars/5.50 Euros)
Books with pictures about history and culture of Russia and Moscow, around 1,500 rubles (aprox. $51/38 Euros)
Paperback booklet about Moscow Metro and famous stations incl. history and architecture 250 rubles (initially 300 rubles) ($8.50 Dollars/6 Euros)
Shashlik: 300 rubles (350 rubles for lamb) ($10/7 Euros)
All rights reserved by Rossiyskaya Gazeta.