Clinton 'optimistic' about START Treaty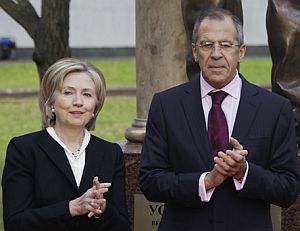 U.S. Secretary of State Hillary Clinton said recently that she expected the replacement to the Strategic Arms Reduction Treaty (START 1) to be signed soon. Clinton was in Moscow last week for talks with Foreign Minister Sergei Lavrov and to attend the meeting of the Quartet of International Mediators in the Israeli-Palestinian peace process. "I'm optimistic that we'll be able to complete this agreement soon. It's a technically very complex treaty to accomplish. We share an interest in making real reductions in our strategic arsenals, and that is the most important point," Clinton said in an interview with the New Times.




All rights reserved by Rossiyskaya Gazeta.