India beckons the young and restless (Video)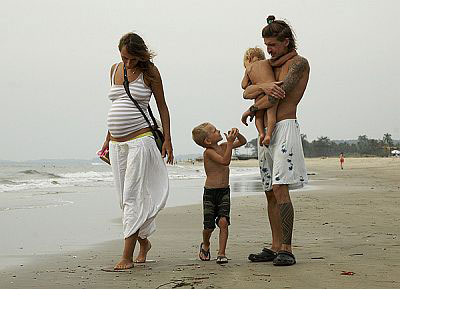 Russians in Goa have started families and even started a smallbaby boom
Russians who have had it with upward mobility are heading to Goa for peace of mind. India appears underwhelmed by the Russians who put out a shingle and sit in lotus on the beach.
Five years ago, Yulia Solovyeva's life did not differ much from the life of any other young professional woman coming from the provinces to Moscow in search of a career. Mornings began with a quick cup of coffee in a tiny rented room, the rush through slushy streets to the metro, packed with tired and gloomy faces, and on to her office where Solovyeva worked as an interpreter.

"I felt like I lived in a cage," said Solovyeva, relaxing in her Goa home, her legs folded into the lotus position. "We smoked cigarette after cigarette in constant stress; I couldn't imagine raising children in that aggressive Moscow environment."

And like thousands of other restless Russians disillusioned with the new corporate world, she headed to the Indian state of Goa in search of shanti, the result of balancing internal and external states. She followed a path that lured generations of young Westerners before her. She made her trek to India, and never came home. The Russian exodus to India—some seem to be setting up a life permanently in Goa—is revealing itself as a trend. Whether they are discovering enlightenment or escaping Russia's stress, India has mixed feelings about their new permanent guests.

The new lifestyle trend intoxicated Russians with its promise of a tranquil life, where short work days, massages and yoga on the beach replace the hassle of Russia's big cities.
Cheap daily charter flights are now carrying thousands of Russians to Goa, a former Portuguese colony famous for its beaches and laid-back mood. The allure of India has spawned a bestseller in Russia, "The Goa Syndrome," a book about living and working in Goa by Alexander Suhochev, also known as DJ Sa Shanti, a resident of the Indian state since 2003.

Solovyeva's husband, Timofei, prefers to describe the drift of the Russian movement to Goa as a movement of uplifters rather than downshifters, the term known in the West. The Solovyevas' two children were born in Goa. Their son's name is Om and their daughter's name is Uma, after the Hindu god Shiva's wife. There are already two Umas in the growing Russian community. More could be coming, as the community has celebrated a baby boom in the last few years.

Like many other Russians, the couple set up their own business in Goa. "When we started a Russian yoga retreat center five years ago, it was a new concept in Goa. Many of our friends, and then their friends, followed us here," said Timofei Rakin during a tour of his neighborhood in Arambol. "Now many Russians run small businesses in Goa."



Fliers in Russian pinned to palm tree trunks that advertise yoga, massages, traditional Indian music and dance classes for visitors point to the growing Russian community in and around Arambol.

Ilya Demenkov, 27, said he grew tired of his work as a programmer at a Moscow IT company. Demenkov flew to Goa last year to realize his dream of opening a kitesurfing school.

"I came here to begin my own business and find a girlfriend," said Demenkov.

Alla Duhl, a painter from St. Petersburg, found that she could live on $500 a month in Goa, including rent for an art studio and a room in a house with a tropical garden.

"Maybe a French lady would find this environment lacking comfort, but we are used to crowded buses and dirty streets, so Goa feels like home to us," Duhl said.

Duhl, who paints portraits of local people on pieces of antique dark wood, said she planned to exhibit and sell her art pieces this summer during one of her short visits to Russia.

Last year, 80,000 Russians flew into Goa. But the influx has also raised some concerns in India. An increasing number of Russians are overstaying their visas. Beginning Feb. 1, the Indian authorities limited tourist visas for Russians to one month, not three or six months, as in the past.

According to the embassy of India in Moscow, 1,400 Russians did not return home last year before their visas expired.

"Some tourists decide to stay to live in India permanently," said the embassy's secretary in a phone interview. "Some, we hear, even burn their Russian passports to break off all the connections with home."

Sanjeet Jha, president of the Association of Indians in Russia, noted that India has shortened the visa terms for Western Europeans as well. He added that some individuals linked to the terrorist attacks in Mumbai used tourist visas to spend extended periods in the country.

"The rules have been changed for everybody, not just for Russians," he said. But Russians still feel singled out.


Some Russians have burned their passports and made a home in Goa


The president of Bharatiya Janata Party, Laxmikant Parsenkar, said that Russians should "stay for two months, have fun, spend money and go back" rather than start Russian businesses. The highly popular city of Morjim seeks a ban on Russian businesses after a taxi driver was killed in a scuffle with a Russian citizen.

Moscow is known as a stressful city. Upon their return to the cold of Russia, some fans of India try to preserve their shanti, the state of inner and outer peace and harmony.

Increasingly, Russian cities have yoga clubs, and practice of the physical and mental discipline has taken off after being barely visible in the country just a few years ago. A new chain of Indian stores, The Way to Yourself, offers everything from Indian tea to little tin kettles good for washing nasal energy channels or watering flowers.

On a recent night, fans of India gathered at Gazgolder, a hip Moscow night club, for a "Goa Memories" party. Visitors in Ali Baba baggy pants and Shiva shirts, sun glasses and flip flops, with third eyes painted on their foreheads, danced to tam-tam music under a big video screen featuring scenes from the Indian state: Indian women in bright saris on motor bikes, enormous palm trees and golden sunshine.
All rights reserved by Rossiyskaya Gazeta.