Green light for 'Silicon' science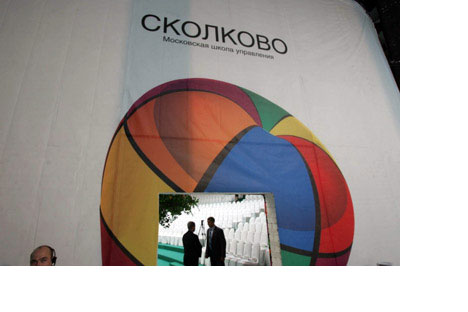 Skolkovo hopes to immitate the success of other globaltechnology hubs
Tycoon Viktor Vekselberg has been chosen to manage Skolkovo, Russia's equivalent of Silicon Valley, to be built near Moscow.
Plans continue apace for the construction of a new science and technology facility at Skolkovo outside Moscow. Last week, president Dmitry Medvedev appointed tycoon Viktor Vekselberg manager of the hi-tech research and production project.

Mr Vekselberg will be called on to apply his business acumen to the creation of the research centre that is to focus on energy, information technology, communication, biomedical research and nuclear technology.

It has been dubbed the "Russian Silicon Valley" and will provide Russia's first dedicated platform for innovation in information technology, according to Vladimir Surkov, the first deputy head of the presidential administration, who is overseeing the creation of the project.

Mr Vekselberg's appointment indicates that Mr Medvedev wants the research centre to be developed by the Russian private sector. The president announced the project in February as part of his modernisation policy for the country. It is hoped that Skolkovo will attract prominent Russian and foreign scientists and businessmen.



Ukrainian-born Vekselberg, 52, chairman of the board of directors of the Renova Group of Companies, who is estimated to be Russia's 23rd richest man, believes that this ambitious project will be successful if international companies participate in it. The task to create a self-sufficient hi-tech research and production centre will take five to seven years, he announced.

Mr Vekselberg, 52, has been an asset management company, since its founding in 1990. It operates in gas, oil, metallurgy, energy and nanotechnology.

Renova has several ideas for research centres in Russia, including one on solar energy, according to Vedomosti. It is possible that some of these projects will be transferred to Skolkovo.

One of the main tasks for Mr Vekselberg as head of the Russian version of Silicon Valley, will be choosing a foreign co-chairman. The final decision will be taken by the government and the presidential administration.

The science and technology centre will be constructed on 370 hectares near the Skolkovo business school outside Moscow.

As the state allocates money, private companies should come forward, and not only Russian ones, writes news website gazeta.ru.

According to Dmitry Abzalov, analyst for the Centre for Political Conjuncture, Mr Vekselberg will be responsible for finding such companies, and building an effective mechanism for selecting and working with innovation projects, linking research with production.

"If Vekselberg manages to solve these tasks effectively, Skolkovo may start working as an autonomous body without the participation of the state," Mr Abzalov said. "We will see the first results of his work by the summer or autumn of 2010."

The plan for Skolkovo was laid out by Mr Surkov in an interview with Vedomosti in February, and is part of Mr Medvedev's overall modernisation programme. "The appearance of great ideas, like life itself, is still considered a miracle," he said.

"There are, of course, no miracle workers among bureaucrats and businessmen, but together we need to create an environment where miracles are possible".

The main task of the Russian Silicon Valley is not "to destroy the raw material industry, but to be able to create new, breakthrough things that other countries do not have", believes Konstantin Simonov, director of the National Energy Security Fund. "It does not matter which industry these breakthroughs will concern."

People involved in innovations "should be admired in this country", and Skolkovo should demonstrate that the state is ready to create special conditions for them, he added.
All rights reserved by Rossiyskaya Gazeta.