A dazzling new dimension in armchair entertainment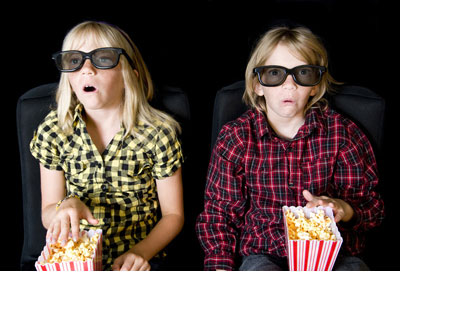 From Avatar to Alice in Wonderland to Toy Story 3D and beyond, it's been the the cinema story of the year. Now Russian television is adding depth to its output.
In February 2010, Russia's General Satellite and Platforma HD and Korea's Samsung Electronics announced the launch in Russia of a joint 3D broadcast. "Along with America's DirecTV and Britain's SkyUK, the Russian project is a pioneer in developing 3D television," said Nikolai Gyubbenet, general director of Platforma HD, a leading pay-TV company.
The average Russian watches far more television than his or her western European or American counterpart, according to Russia's Cable TV Association. Growth in personal incomes combined with scepticism about state-controlled channels, has made pay TV increasingly popular. "Various statistics indicate that the volume of the pay-TV market in 2009 exceeded $1bn," added Mr Gyubbenet.
By early 2009, the number of users of pay TV had topped 19 million (14pc of Russia's population), according to iKS-Consulting.
In Moscow, almost every third family now owns an HD television, and the cost of HDTV televisions drops every year. Today, most television sets sold in Russia have the HD format. And it would seem that interest in HDTV has not been dented by the severity of the recent financial crisis.
Production of 3D television equipment has started in the Kaliningrad region. According to deputy prime minister Sergei Ivanov, who recently visited the plant, the cost of the 3D television, receiver and glasses is still fairly high. "But as the economy develops, and people's interest in quality grows, this market will expand," said Ivanov.
"In Russia, the HDTV market is far from saturated, while the battles for 3D subscribers haven't even begun," said Maxim Savvatin, an analyst at iKS-Consulting. "They will take place on the field of content, where the choice in 3D will be even smaller than in HD, and over access to service."
Mr Gyubbenet thinks that, at first, demand for 3D will be from those interested in technical innovations and status buyers. "The potential market is estimated at 200,000 to 300,000 sets," said Vyacheslav Yefimov, director of the finance and investment department at Incor Alliance.
How quickly the new technology becomes widespread will also depend on content. Giants such as Sony, Pixar and Disney have stated that they are interested in 3D, and experts estimate that by 2013 the 3D market will total $15.5bn.
Technologies for making an existing picture 3D are expensive, but it is possible to rent the equipment and software. Russian suppliers of content appear ready to get involved in the new market after satellite technologies passed the 3D test last year. Then, British subscription channel Sky broadcast a Keane concert live in 3D, while in France, the Mozart opera
Don Giovanni
was broadcast in spacialised sound and 3D video-images from the Rennes Opera.
Today, a number of Russian companies are participating successfully in international projects connected with 3D. Mr Ivanov recently announced that in April a gala ballet performance, featuring Maya Plisetskaya, will be broadcast throughout Europe in 3D.
---
Dogs in space – a 3D odyssey
Following the popularity of James Cameron's Avatar on Russian screens, the country's own Centre of National Film (one of the largest film studios during Soviet times) has produced the first modern Russian animation in 3D.
Belka and Strelka is based on the true story of two dogs who were sent into space in 1960: the release of the cartoon marks the 50th anniversary of their flight. During the early stages of the Soviet space programme, the animals were sent into space to test life-support systems aboard spacecraft.
The real Belka and Strelka returned safely to earth, and Strelka later gave birth to puppies. One of the puppies was sent to Caroline Kennedy (daughter of then US President John F Kennedy) as a gift by Soviet leader Nikita Khrushchev.
In the cartoon, Belka performs in the circus and dreams of fame and fortune, while Strelka is a homeless dog dreaming of one day finding her father.
Today, both dogs (now stuffed) are on display at the recently renovated Cosmonaut Museum in Moscow.
All rights reserved by Rossiyskaya Gazeta.