Putin in India: Geopolitical results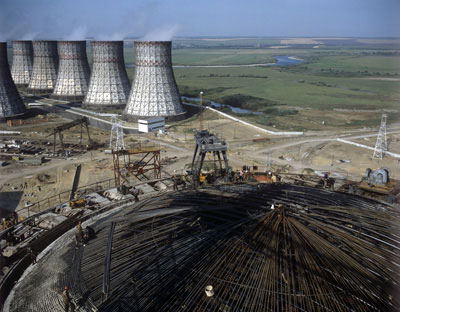 India could provide Russia a third site for the construction ofnew nuclear power plants.
The Russian premier's visit has been well received in India. What was not a sensation is that Vladimir Putin is regarded by the main social and political forces in India as the "saviour" of Russia's prestige.
As someone who has been observing the dynamics of our bilateral relations for more than a decade, I did not find the contracts signed in Delhi striking, the more so since their details had been under discussion for more than a year. "Non-classical" (nuclear) energy is already commonplace, since Russia, for example, is planning to build a nuclear power plant at the opposite end of the world, in Morocco. And so we could not wait to learn the fate of the "contract of the century", to supply India with 126 multi-role fighters, which Putin was lobbying strongly for in Delhi three years ago, when he was still president of Russia. A "ray of hope" appeared when it was reported that India is to participate, to the tune of $600 mn, in the development of a fifth-generation fighter, since this high-tech aircraft promises to be better than its American equivalent, the Raptor. But at $7.5 bn, the volume of bilateral economic links in 2009 is frankly rather depressing: it is considerably more modest than Russia's trade turnover with the relatively small country of Turkey.

Nevertheless, these views of a sceptic would seem to be refuted by the "undercurrent" of Putin's visit, which is the return of our two countries to the arena of real twenty-first-century geopolitics, which journalist and author Fareed Zakaria has aptly dubbed "the post-American world".

For a long time, Russia and India, each country in its own way, amused themselves with the illusion of a comfortable "unipolarity", i.e. a unipolar world in the "American" style. The elites of both countries were willing to play world politics according to rules laid down by Washington. However, the global crisis that struck so "unexpectedly" showed just how shaky the political economy of a unipolar world was and forced many, including Moscow and Delhi, to take more of the initiative and to act more boldly.

For India, the China factor also plays a role in this, since many "at the top" and "on the street" believe China is trying to surround the Indians in the area of their vital interests, i.e. in South Asia. And here Russia too has remembered that peace in Central Asia, which is a key region for us, begins in Pakistan, and that we have effectively the same interests as India in Afghanistan. Putin did not shy away from talking about this in Delhi. The leaders also apparently discussed the way America's geopolitical influence is waning and China's is rising in both South and Central Asia.

All this obviously not only provided abundant food for thought but also prompted Delhi and Moscow to change, as it were, the geopolitical paradigm and to return, albeit in new circumstances and with new content, to the tried and tested relations which in the recent past did not prevent India or the Soviet Union from strengthening their strategic position in the southern part of Central Eurasia.

The conditions are now even more favourable for a new Russian–Indian "entente", if only because we do not need to have an argument with America or with China, but simply need to defend our strategic interests, relying on clear political will and a newly acquired knowledge of the world.

It is in this new Russian–Indian mutual understanding and mutual rediscovery that I see the true meaning of Vladimir Putin's brief visit to Delhi.

Dr Andrei Volodin is professor of history with the Institute of World Economy and International Relations in Moscow.
All rights reserved by Rossiyskaya Gazeta.