Putin strengthens India-Russia ties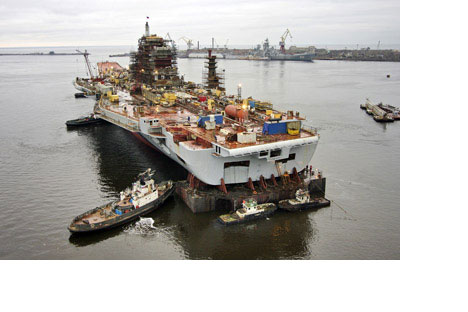 Under the revised contract aircraft carrier INS Vikramaditya(Admiral Gorshkov) will be delivered at the end of 2012.
It was a day-long visit, but in those twenty-two hours he spent in New Delhi March 12 Russian Prime Minister Vladimir Putin, the architect and prime driver of the contemporary India-Russia strategic partnership, took bilateral ties into a new orbit.
Not only did he promise Russia's unstinted support for the budding civil nuclear industry in India – it could mean Moscow building 16 atomic reactors for New Delhi over the next few years – he also imparted a long-overdue economic momentum to trusted time-tested ties. In a major public diplomacy outreach, the first of its kind by a visiting leader, Putin interacted with a wide swathe of Indian businessmen and civil society in New Delhi, Kolkata, Mumbai and Bangalore through a live web conference, and declared that India had been Russia's strategic partner "for decades" by virtue of a "near complete concurrence of our geopolitical interests."

The brief visit of Putin, his first to India since he moved to his new position as the prime minister of Russia two years ago, was marked by several breakthroughs and win-win deals, taking bilateral ties to a new high, a fitting finale to the "Putin Decade" in bilateral ties. It was, after all, Putin, who visited India within months of assuming presidency in October 2000 and signed the historic Declaration on Strategic Partnership, with an old friend. The timely and far-sighted diplomacy reversed the drift of the post-Cold war 1990s and established a template for refashioning India-Russia ties in tune with the changing realities of the 21st century.

Ten years later, although he came to India this time as the head of the government, the Putin legacy was bearing fruit in myriad ways. During his brief but significant visit, the two sides vowed to end years of stagnation in economic ties by inking a clutch of pacts on oil exploration, trade in diamonds and import of fertilizers. These pacts have the potential to add more heft to current bilateral trade of $7.5 bn. Putin also vowed to boost banking cooperation with India through joint ventures and offered state financial aid for Indian telecoms unit of Russian conglomerate Sistema. "There is political will on both sides, but we need support from the captains of industry," Putin said. "We should think about the future."

The defence ties, the bedrock of the India-Russia relationship for decades, saw a renewed surge as the two sides inked a military aviation agreement and sealed deals worth at least $4 bn that included Russia supplying 29 MiG-29K fighter jets, a Multi-Role Transport Aircraft and the joint development of fifth generation aircraft that promises to provide a new ballast to the Indian air force. The freezing of the renegotiated prize for retrofitted aircraft carrier Admiral Gorshkov, renamed by India as INS Vikramaditya, at $2.3 bn removed a recent irritant in bilateral ties, and reinforced Russia's position as India's top supplier of military hardware despite competition from the US, France and China. Russia also agreed to provide India exclusive access to military signals from GLONASS global positioning system (GPS) that will enable the precise targeting of guided missiles.

Responding to India's surging economy and its energy needs, Putin, who had batted vigorously for ending nuclear embargo for India in the Nuclear Suppliers Group, announced his country's full support for India in all areas of civil nuclear cooperation, including the disposal of nuclear waste. This commitment was reflected in the signing of an intergovernmental cooperation on peaceful uses of nuclear energy, initialled during Indian Prime Minister Manmohan Singh's trip to Moscow in December last year, and another one laying out a roadmap for serial construction of Russian-design reactors. A separate commercial contract between India's public sector nuclear monopoly NPCIL and Russia's Atomstroy Export was also inked for building two more civil nuclear reactors of 1,000 Mw each at Kudankulam in India's southern state of Tamil Nadu where Moscow is already building two reactors. If this upward trend continues, Russia could end up building upto 16 nuclear reactors in India, giving it the first mover advantage over other competitors like the US and France in India's multi-billion dollar nuclear pie. "This is one of our major, far-reaching, promising areas of interaction," Putin said.

On the strategic front, the talks turned out to be a meeting of minds. Putin shared India's distaste for the potential relapse of Afghanistan into Taliban barbarism and vowed to step up cooperation in combating terrorism and on issues relating to the stability of the Afghanistan-Pakistan region.

Taking note of New Delhi's anxieties about the threat to the region posed by terror groups operating from Pakistan, Putin asserted that Moscow will not enter into any defence deal with Islamabad "because of our Indian friends' concerns."

Moved by his unwavering commitment to rebuilding closer strategic ties with India, Manmohan Singh, was generous in his praise. Describing Putin as "a great friend of India," Manmohan Singh said at a joint press conference: "Prime Minister Putin has been the architect of the strategic partnership between India and Russia, and we owe a deep sense of gratitude to him for bringing our countries so close to each other." In a tribute to what is clearly the 'Putin Decade' in bilateral ties, Manmohan Singh underlined that the relations with Russia "are a key pillar of India's foreign policy," adding: "We regard Russia as a trusted and reliable strategic partner." Putin smiled, basking in the glow of restoring vitality in a critical relationship that has withstood the vagaries of changing geopolitics and continues to remain central to core interests of both countries in an emerging multi-polar world.


4 Highlights of the visit


1. Nuclear deal

Under the new agreement, Russia will build upto 16 nuclear reactors in India. "The agreement sees construction of upto 16 nuclear reactors in three locations," Russian Deputy Prime Minister Sergei Ivanov said.

2. fighter jet contract

Russia and India have signed a $1.5 bn contract on the supplies of 29 more MiG-29K Fulcrum-D carrier-based fighter jets. The start of the supplies is scheduled for 2012.

3. Glonass project

A joint venture will be established to produce navigation equipment for GPS and its Russian equivalent GLONASS, including the use of the GLONASS system for defense needs.

4. Gorshkov deal

The two countries have signed a deal on upgrading the Admiral Gorshkov aircraft carrier, following an earlier statement from the Indian government's security committee, it would allocate $2.3 bn to refit the ship.
All rights reserved by Rossiyskaya Gazeta.