The young face of Russian fashion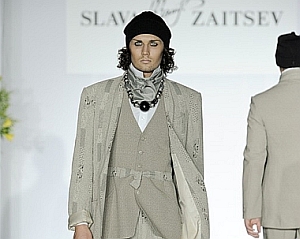 Today there is no longer just one answer to the question: "Is there a fashion industry in Russia?"
On the one hand, there are no widely publicized brands, major companies or chain stores of Russian clothes. On the other hand, almost imperceptibly, here and there, little "islands" of Russian fashion have quietly begun to appear: first stalls at open-air markets, then small sections in department stores and finally whole shops in large malls. "There are many talented designers in Russia, but this business is still not turning enough of a profit," said RFW director Alexander Shumsky. With consumer demand now beginning to pick up after the financial crisis, Shumsky is convinced that the time has come "to invest money in the development of interesting Russian labels."

Of the newcomers in this year's RFW, five collections stood out:

Designer Dmitry Kazantsev hasn't yet won star status and fame on the runway, but his pullovers, hand knitted sweaters, voluminous tunics and very sexy dresses of the finest cashmere are already known to fans of such heavyweights in the Russian fashion industry as Denis Simachev and CHAPURIN. For several years Dmitry worked on knits for these labels. Then last year he debuted under his own name, D. Kazantsev, with a collection of impeccable cut. His designs deftly combine classic elegance with fashionable details (unusual sleeves, asymmetry, wide collars) and rich color solutions.



I am is a young Russian label whose collections are created by Daria Samkovich and Victoria Samoilova. Their things are laconic, the silhouettes are clean, the colors restrained. They describe their style as "smart casual". They do not work with chiffon or satin as a matter of principle: "We're drawn to knitted fabrics and all the new synthetics — for instance, a cotton knit with a filmy facing or linen with silk."

Dasha Gauser created her first collection of feminine dresses in 2006, foreseeing their triumphant return to the wardrobe of the contemporary woman. She put up photographs of her girlish designs with bows and ruchings on her page in Livejornal. That is how she won her first fans and clients. Two years later she opened her first monobrand boutique Dasha Gauser. Today Dasha is creating more complex silhouettes, her things have an architectural cut with numerous pleats, interlacings and layerings of fabric.She favors silk, wool, linen and cotton.

Many people think of Rogue as a popular computer game from the 1980s, but for those in the know in Russian fashion, it is a young and audacious duet that burst onto the scene in 2008: Nikita Severinov and Alexander Fereferov. Their first joint collection was devoted to the aesthetics of the 1920s. Their second theme was the 1980s. "We didn't borrow the '80s cut, we were simply inspired by it," they explained. "We gathered impressions about the 1980s from family and friends. We created a collection steeped in the spirit of that time." Rogue '80s is indeed brimming with sexuality, irony, constructive solutions and Swiss semi-couture fabrics.

The young but experienced Russian designer Anna Miminoshvili made it clear that she was someone to watch while still a student at the Moscow Textile Institute. Her 2004 collection "Fight Club" was noticed by the juries of the Russian Silhouette and Admiralty Spire competitions for its complex cut, dynamic silhouette and fine work. Anna received a special prize for this collection from the Paris fashion institute Es Mode. Her style is recognizable: she often uses unexpected materials in her collections — poured Venetian glass or steel hand-forged into the shape of lily petals. All her collections are distinguished for complex forms.
All rights reserved by Rossiyskaya Gazeta.