New Kyrgyz government formed, Bakiyev's resignation expected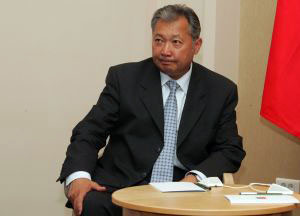 68 people were killed in the riots that broke out across the country yesterday, as anger against Bakiyev and his family's control of the government and economy erupted. Bakiyev, who came to power in 2005 promising to address the problems of corruption and nepotism under his predecessor, created a regime that was just as corrupt and considerably more authoritarian.

At a press conference this morning, Kyrgyzstan's interim ruler Roza Otunbayeva - the only top opposition leader not to be arrested during yesterday's riots - said a new interim government had been formed and would rule for the next six months.

Newly appointed Defence Minister Ismail Isakov added that armed forces, police and border guards have given their support to the new regime, Ria Novosti reported. Several regional governors have either been removed or dismissed.

Bakiyev is expected to announce his resignation later today, according to some local press reports.

Bakiyev fled from Bishkek to south Kyrgyzstan late on Wednesday, arriving at Osh airport shortly after midnight this morning, local news agency Kabar reported. He is planning to announce his resignation at a rally in his home town of Jalal-Abad later today, Fergana-ru quotes the Jala-Abad regional governor Koshbai Masirov as saying. "But we'll stand by our son," Masirov added.

Otunbayeva says the provisional government now controls four of Kyrgyzstan's seven regions, but warns that Bakiyev could be mobilising resistance in the south. Southern Kyrgyzstan remains Bakiyev's core power base, but his unpopularity across the majority of the country means it would be virtually impossible for him to stage a comeback.

Bakiyev's influential younger son Maxim Bakiyev arrived in Washington with Foreign Minister Minister Sarbayev this morning. They were on their way to attend meetings in the US capital when the riots broke out.

Maxim Bakiyev had become the most hated figure in Kyrgyzstan in recent months. Much of his wealth stemmed from being the sole supplier of fuel to the US military airbase at Manas airport near Bishkek, but he also had interests in numerous other businesses. Already a powerful figure in business circles, he was appointed to head of the newly-created Central Agency for Development, Investment and Innovation in 2009. The agency privatised two of Kyrgyzstan's largest state-owned utilities, Kyrgyztelecom and Severelectro, in February 2010, to companies believed to be controlled by Maxim Bakiyev and his associates.

Otunbayeva told journalists this morning that her government would reverse these and other recent privatisations. She also plans to reduce electricity tariffs, another of the population's key grievances against the Bakiyev regime.

The more urgent question facing Kyrgyzstan's new rulers is how to restore stability to the country. Demonstrators ransacked the White House before setting fire to the building yesterday April 7. The Bishkek compound where Bakiyev and his relatives lived was looted last night, with people seen carrying away rolled-up carpets, clothing and other items before the building was set alight. No firefighters came to the scene, according to press reports.

Government offices, shops - especially high-end and foreign owned stores - and other buildings were also looted. This morning, several buildings in central Bishkek are still ablaze, and there is a similar situation in other cities. Otunbayeva has appealed for an end to the looting, and Bishkek mayor Narimen Tulle has urged employees to return to work and ensure that essential services continue to be provided.

The situation remains unstable, although at this point it looks like the government has fallen and the opposition has taken control of the capital. They must consolidate their control over the military and police forces in the next days for the situation to stabilise. It is possible that some of the security remain loyal to the president, which would pave the way to more violence.

However, Bakiyev has destroyed much of his credibility with his blatant nepotism - the charge he levelled against former President Askar Akayev. As a result he has little moral authority and it seems unlikely that he will be able to mount a riposte now that he has left the capital.



After coming to power, Bakiyev was credited with restoring stability to Kyrgyzstan and helping the country achieve steady economic growth. But he has become increasingly unpopular since the 2007 parliamentary elections, when the parliament was filled with pro-presidential Ak Zhol party delegates amid claims of fraud, intimidation and vote rigging. The appointment of his brothers to key government positions, and his son's control of business activities, further turned the population against him.

The crushing of the tulip revolution in Kyrgyzstan raises difficult and important questions of how to get from authoritarianism to prosperity and democracy. A decade ago, Kyrgyzstan was seen as the bright light of the region in terms of its progress towards democracy, and even dubbed "the Switzerland of Central Asia". However, it has not yet achieved a peaceful transfer of power, it remains on of the poorest of the post-Soviet states, and press freedom and human rights protection have been strongly eroded in recent years. Nor have the other "colour revolution" states advanced towards democracy. The failures of Kyrgyzstan and Ukraine are hardly offset by a very modest success in Georgia.

The events in Kyrgyzstan over the last two days demonstrate how difficult all the CIS countries are finding it to make the transition to democracy. Ian Bremer the founder of the Washington-based think tank the Eurasia Groups said in his book "the J Curve" that to move from an authoritarian regime to a democratic one politics must first pass through a phase of decreased prosperity and increased instability - and not all countries' political systems survive this period, as demonstrated in the break up of Yugoslavia.

Kyrgyzstan is at the low point now. Bakiyev was a bad choice for president as he had the same flaws as the outgoing Akayev. Furthermore, once the people of a country have been radicalised as they were in 2005 they become less tolerant of mistakes, which undermines the incoming government's room for manoeuvre. Still, the upshot of the fall of the government will be a second stab at democracy and it could well end in a better government as the lessons to be learned by political leaders about accountability and the moral responsibility are clear for all to see.

Ironically the effect on those countries in the region that have not had a violent change of government such as Turkmenistan, Russia and Belarus will be the opposite. The Kremlin has been increasingly explicit in the last year about its desire to move toward more democracy, but to move slowly. It has pointed to the unrest in the 1980s and the collapse of the Soviet Union as the reason why. These countries are attempting to move from their centralised government to win the benefits of democracy and its related increased prosperity but avoiding the bowl of Bremer's J.


All rights reserved by Rossiyskaya Gazeta.