Russian, Eastern & Oriental fine art fair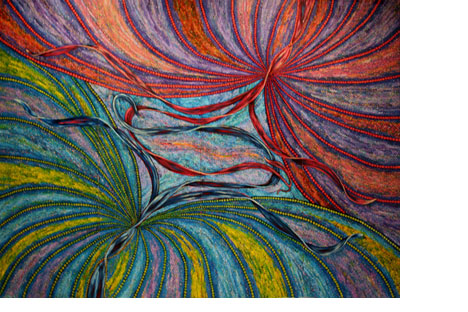 Now in its second year, the newly expanded Russian, Eastern & Oriental Fine Art Fair will feature 50 leading international galleries, showcasing 1000 years of art from across the Eastern world. The Fair will be opened by TV art critic, Andrew Graham Dixon in the presence of HRH Prince Michael of Kent GCVO and His Excellency Mr Yury Fedotov, Ambassador of the Russian Federation.
Key works on display include a beautiful watercolour of the stage design for
The Firebird
by Natalia Goncharova (1881-1962). In 2008, Goncharova's Les Fleurs set a world record price for a female artist, selling for £5.5 million ($10.8 million) at Christies, London. For sheer luxury and glamour, a majestically-crafted timepiece featuring over 4,000 diamonds, gold, pearls, amethyst and nephrite will be offered by a leading Russian jewellery company Moiseikin House for a price well into seven figures.
In recent years, art from the East has soared in popularity and value. Two thirds of Russian modern and contemporary art sold worldwide is sold in London, which has seen a major rise in auction sales and the opening of specialist galleries to cater for demand.
Among those confirmed are
Sphinx Fine Art
and
Chaucher Fine Arts
from London with major 19th Century and 20th Century Russian Avant-garde works;
Jacques Monasch Gallery
from Moscow and Amsterdam together with
John Barkes
and
Hampstead Gallery
from London and
Lazare Gallery
from the USA will display a range of 20th Century and Soviet Realist paintings; Russian contemporary art will be shown by
White Space Gallery
from London and Vitaly Patsyukov, curator of the
Centre of Contemporary Art
in Moscow;
'Inspired by Russia Art Project'
will display abstract works by US based Russian artist Luba Sterlikova; Important icons will be on sale from
Paretski Antiques
, Berlin and
Made in Russia
, USA;
AASN
, UK will display silver and items from the Crimean War, while Ukranian art will be offered by
Danusha Fine Arts
and
ArteLia
from London.
The 2009 Fair proved one of the social highlights of the year for the Russian community, with a Charity Gala Evening attended by Their Highnesses Prince and Princess Dimitri Lobanov Rostovsky and other high profile members of the London Russian community, celebrity clientele, politicians and VIPs. Along with the Ritz Club VIP dinner, the evening raised considerable funds to help children with severe burns and resulted in some substantial six-figure sales. Three television stations covered the event.
The 2010 Fair will open with a Royal Private View on Wednesday 9th June 2010 when the winners of the Eastern Art Prizes will be announced by Andrew Graham Dixon and presented by HRH Prince Michael of Kent GCVO. The 2010 Charity Gala Evening in aid of the Children's Burns Trust takes place on Friday 11th June 2010 and will be a very high profile and glamorous occasion.
Four television and film companies have already confirmed their attendance for 2010, including ART TV, who will produce a series of 6 x 30 minute programmes exclusively on the Fair. Andrew Graham Dixon will also be conducting interviews, alongside television stations from Russia and China.
A special evening for Cultural Patrons and members of
the Pushkin House
will be held on Thursday 10th June 2010.
For further information on the Fair, please contact:
www.russianartfair.com
Peter London
Fair Director
T: +44 (0)7795 074843 / +44 (0)7540 765840
peter@russianartfair.com
Russian Speaking: +44 7788 661153
All rights reserved by Rossiyskaya Gazeta.