Chechnya's "war after the war"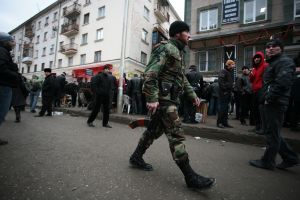 Exactly one year ago, April 16, 2009, the counterterrorist operation (KTO) in Chechnya was concluded. President Ramzan Kadyrov declared that day a national holiday for all Chechens – the day the war ended. Yet a year later, peace has not come to Chechnya. Between April 2009 and March 2010, 85 law enforcement officers were killed in the republic and 168 wounded. Acts of terrorism continue. The first post-KTO suicide bombings occurred less than a month after the declaration, in May 2009. Of the 57 terrorist acts registered in Chechnya between April 2009 and March 2010, nine were suicide attacks and a tenth suicide attack was averted.
Today it is crucial for the future of Chechnya to determine whether these clashes –as well as smaller skirmishes, attacks and diversions – mean the end of the vaunted "stabilization" in Chechnya. If so, then when might this happen? If not, then what evidence is there to suggest that the rebels' raids are doomed to fail? Can we speak of a "second wind" among separatists in Chechnya or is this resistance really in its death throws? If this resistance is at an end, then will the Chechen militants consolidate around the green flag of radical Islam?

So far, the "war after the end of the war" has merely proven one obvious fact: People who are dissatisfied with the republican and federal authorities and their policies in Chechnya remain. Ratings and propaganda campaigns cannot wipe out this dissatisfaction, since reasons not to accept official policy can always be found. It would be naïve to think that a "Kadyrovization" of policy in Chechnya would put an end to all the social and political contradictions there. All Ramzan Kadyrov has managed to do, as president of Chechnya and as acting president before that, is to launch his project for "national revival." This project aims to enlist yesterday's rebels and even separatist leaders in the law enforcement organs, administration, and police of the republic and to insist on greater political independence for Chechnya within Russia and hegemony in the Caucasus. Given the empirical experience of the Chechens in the post-Soviet period, Kadyrov's project of national revival had a serious chance of success and the clashes since the KTO was concluded have not made those chances significantly less.

The experiment of an independent "Ichkeria" was not an abstract reality, but an empirical attempt at state-building. It was attempted twice, using two different models. In 1991-1994, it involved the implementation of a secular nationalist project, while from 1996-1999, it meant the construction of a de facto independent Chechnya that relied on Islamic traditions such as Sharia law, Sharia security, and a criminal code copied from the Sudanese code of the early 1980s. Both attempts were unsuccessful, from the socio-economic point of view and in terms of political stability. Both times Chechen society split over the question of the best model for state-building and how to defend their identity. The "Chechen crisis" of the post-Soviet period was not a permanent struggle between Russians and Chechens, Chechnya and Russia. This is a myth. It was the resistance of Dudaev and the Grozny City Council, Dudaev and Avturkhanov, Zavgaev and separatists, proponents of Sufi Islam, and so-called Wahhabis.

Chechnya's "internal" fissures have also worked against the separatist idea. Unlike officials in Abkhazia and Nagorno-Karabakh, Chechnya's leaders have not been able to consolidate the people around the idea of an independent state. The mass exodus of Chechens from Chechnya continued during the 1990s. Ichkeria, in both its incarnations, did not afford its unrecognized citizens career growth opportunities or internal stability. A movement towards national separatism will not be in demand in Chechnya in the near future because of the failures to build an Ichkerian-style nation. This is far more important than hard-line Kremlin policy.

The current elite of Chechnya, who grew to manhood while searching for their own identity after the collapse of the Soviet Union, burdened by wars and conflicts, has decided on that nation-building is an alternative to open secession. First of all, Ramzan Kadyrov and his men aspire to a special place in the Russian Federation. Secondly, Grozny conducts internal and external policy that is not always coordinated with Moscow and is not always part of the Russian authorities' plans. Thirdly, the ideology of the Chechen elite today aims for an inner-national consensus often at the expense of Russian interests. This course has some popularity. It has afforded Chechnya a special role inside Russia and has given residents of the republic definite rules to play by and job opportunities. After two military campaigns and internal conflicts, the current situation is seen as, if not a boon, then as the lesser evil. Today you can choose between a career in an office and a Basayev-style career. For a people weary of war, the romance of the mountains is not necessarily attractive.

However, this is all just one side of the Chechen coin. The other side is this: The "Kadyrovization" model is vulnerable in the middle and long run. First of all, it is a model that concentrates power in one pair of hands. This means that it does not allow an opposition to exist on principle. What's more, the head of Chechnya is a tough politician, not inclined to sentimentality. Secondly, Ramzan Kadyrov's power is tied umbilically to the Kremlin. The stability of the current "power vertical" depends in large part on the president of Chechnya. Thus, potential opposition members will not be able to seek "justice" in Moscow. The federal authorities do not have valves to let off opposition energy. Moreover, this energy is impossible to keep track of and control in a civilized manner. It can be suppressed, but not controlled. Moscow is far away, and no one can defeat Kadyrov inside Chechnya. Sooner or later, this mono-centric power will come full circle and work to reproduce itself. "Internal opposition members" dissatisfied with "Kadyrovization" will have no choice but to go up into the mountains. The ones who are dissatisfied may be not only bureaucrats who've fallen afoul of their boss, but ordinary residents who have not been able to find an effective defense against the despotism of their own law-enforcement organs. They will inevitably link their dissatisfaction with Kadyrov to dissatisfaction with Russia in general.

Moscow should get over its euphoria about Chechnya. The "Kadyrovization" of Chechnya is only a method by which the federal center can pacify the republic. Missions like incorporating Chechens in Russian structures – not only the structures of power, but the structures of everyday – are not being carried out. Another mission that has yet to be tackled is that of establishing lawful order in the republic. Unofficial and behind-the-scenes connections decide far more than official and legal ones. The closed nature of the republic, and Moscow's reluctance to form a new, post-conflict elite there are delaying a full-fledged social rehabilitation of Chechnya. Without this rehabilitation, any dissatisfaction in the republic, like any opposition, will not take the most civilized form.

Sergei Markedonov is a political scientist and expert on the Caucasus and Central Asia .
All rights reserved by Rossiyskaya Gazeta.