IT professionals returning to Russia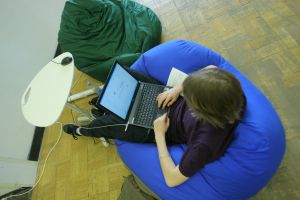 Computer experts who left the country 10-15 years ago or even very recently to work on foreign projects are now starting to return to Russia. Given the severe deficit of specialists in Russia, employers can only be pleased by this trend. There are usually three applications at most for a vacancy in the field of IT and experts say there is a marked lack of specialists who are based within Russia.
"In 2009, specialists from the IT field began to look for work in Russia. This includes engineers, database specialists, and computer programmers, who up until recently were working abroad, mainly in Australia and Israel," said Elena Pozdnyakova, the general director of the recruitment company Personal Connect, which focuses on IT companies.

Up until last year, there wasn't much interest in jobs in Russia. In general, recruitment agencies only had clients in this field over the age of 30, people who had lost their jobs in the global recession and were struggling to find new ones.

Ekaterina Fedotovskaya, a recruitment consultant from the company Imperia Kadrov, says that now there are also young people who have not managed to find much in the way of work abroad.

One of the most common reasons for returning to Russia is a project closing or being downsized because of a lack of financing.

"The project manager of an IT company would previously go to work in a big foreign organization or in outsourcing companies for many years in succession. But because of the crisis, which has led to pay cuts. many people are considering returning to their homeland," said Denis Roshin, a senior partner for recruiting management company Triolit.

He notes that recently there has been an increase in interest from jobseekers who have experience of work in other countries, and who are now ready to lead projects and develop business in Russia.

"Workers have lost that degree of stability that existed before the crisis," said Roshin.

Another aspect that adds to the attractiveness of a job at home: Russian companies are ready to offer approximately the same salary as foreign companies, and sometimes even more. Apart from this Russian companies are now in a position to offer an employee interesting and large-scale projects to complete, opportunities which were virtually non-existent beforehand. Many IT specialists are returning to Russia just as new departments are being opened in their field.

And Russian companies are very interested in potential tech employees who have worked in the West.

Marina Lukyantsevaya, a recruitment specialist from Morgan Hunt, said that it is especially interesting for an employer to have such a worker on board in today's international business environment.

"It is favorable for those companies to have such an employee if they intended to do business in the international market. This employee will know things that workers in Russia don't, and might even have an enormous amount of experience," she said.

However, there are also a few difficulties for workers returning to Russia from abroad.

Yana Karpova, a supervisor for the recruiting group Manpower, explains: "The longer someone works abroad, the more his or her mentality changes. For example, in many IT companies, specialists [in Russia] work on an unusual timetable that is not very popular in the West."

With those repatriating as well as Russian specialists who have never left, it is an employee's market, and there is a real payoff.

According to data from Headhunter, the average salary of an IT specialist in Moscow is $1,500 per month, for a web engineer it's $2,000 per month and a Javea programmer can make $2,500.

Today in Russia's top universities 50,000 new specialists are being trained. They will be ready for work in 4 to 5 years, hoping the jobs will still be waiting.
All rights reserved by Rossiyskaya Gazeta.