IT security: Eugene Kaspersky. The virus warrior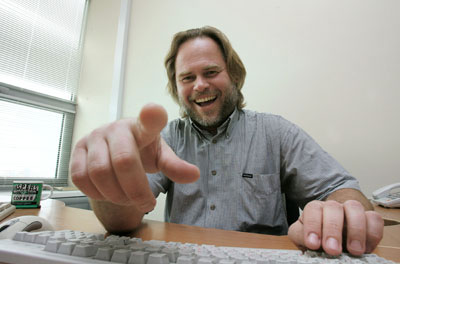 Moscow in the early 1990s conjures up stereotypical images of underworld characters. But well beyond the streets, one young mathematician was building up post-Soviet Russia's reputation as a nation of brilliant cyber crime fighters.
Eugene Kaspersky began studying computer viruses in the late 1980s, when PCs in Russia were only available at a handful of elite government institutions. Now he's built a $329 mn empire around the virtual bugs, designing software that sniffs them out and kills them off before they wreck his clients' systems.

Founded in 1997, his namesake company, Kaspersky Lab, is now the world's fourth largest anti-virus software company. With a whopping 76pc growth rate between 2007 and 2008, it's also the only Russian firm that holds a place on a list of the world's top 100 software companies by revenue, coming in at number 76 in 2008.

Kaspersky Lab still lags behind American anti-virus giants Norton and McAfee and Japan's Trend Micro, which had $5.8 bn, $1.6 bn and $848 mn in revenues in 2008, respectively. But Kaspersky shrugs off the competition. "We all know from sports that the winner is not the team with the largest budget, but the one that plays better," he says.

In the anti-virus game, it's the company with the most brains that wins. Kaspersky Lab's security experts and malware analysts are always on the move, developing new programs to speed up the detection and neutralisation of threats.

Kaspersky mentions types of malware (malicious software) with perplexing names: worms, Trojan horses, spyware botnets, rootkits, bootkits, backdoors and zero-day attacks. More than 3,500 signatures that detect threats are added each day to the company's database, which is already replete with around three million signatures.


With new malware being born every second, Kaspersky claims that recruiting programmers-cum-virus busters to his already top-notch international team is a priority — you must know how a virus is built in order to create its antidote.

Since January 2009, 25 new software engineers have signed on from St. Petersburg. Before they joined, however, they made it clear that they wouldn't shift away from the northern capital; Kaspersky and his HR department never once attempted to convince them otherwise.

"They wanted to switch companies but didn't want to move to Moscow. So we said fine, and set up an R&D office in St. Petersburg just for them," says Kaspersky. "How could we have done otherwise? People are our most valuable assets."

Harnessing mathematical and engineering prowess has been the key to Kaspersky's entrepreneurial success.

In 1991, the year the Soviet Union was dissolved and four years after he graduated with a degree in mathematical engineering from Moscow's Institute of Cryptography, Telecommunications and Computer Science, Kaspersky was offered a job designing anti-virus protection programs for a Ukranian computer import company.

"I had been studying viruses as a hobby, but I never knew that I could make money from this hobby," says Kaspersky. So when the offer came up, he jumped. "I thought to myself, 'Wow, I can buy a car with the money they're offering'," he says. "Well, I could have bought a used car but a car's a car, and it was 1991. The economy was not doing well."

The project, however, was a temporary one and, soon after it ended, a former teacher offered him a job doing similar anti-virus work for Kami, one of the first Russian hard and software firms. The company gave him a computer and about $100 a month, and Kaspersky considered himself lucky.

"I was a one-man band doing antivirus work at Kami until two old friends approached me asking about a job," he says. "I knew they were brilliant engineers, so I convinced the owner that we needed to bring them on."


From the ground up

For the first few years, the team's prowess in developing virus detection and disinfection software flew under the radar. "Kami was selling domestically, but the software market was practically non-existent in Russia," Kaspersky says.

But in 1994, after Hamburg University's Computer Science Department recognised Kaspersky's antiviral toolkit as the best anti-virus scanner in the world, the phones began ringing.

Kaspersky's three-man team was soon inundated with anti-virus software licensing requests from European and American computer companies, but the administrative and sales work involved in international contracts soon became too much to handle. It was cutting into their lab time, which they could not afford.

Kami was barely breaking even at the time and it didn't have the funds to get a seasoned sales director. So Natalya, Kaspersky's wife at the time, also from a technical background, agreed to join. She proved extremely adept at sales and PR, and became the driving force behind the team's decision to leave Kami to set up their own exclusively anti-virus software firm in 1997.

As Kaspersky was already well known in Europe and Asia, Kaspersky Lab's stock grew dramatically. Between 2000 and 2005, the company launched operations in all major markets, including the US, Japan and China. The company now employs more than 1,500 people internationally and is continuing its global regional expansion. It has a direct presence in and around 30 countries, with a new office in South Africa and one soon to open in India.

Mounting interest in Kaspersky antivirus software in the US, a traditional Norton and McAfee stronghold, has also prompted the company to set up an office with an expert analyst team on the West Coast. Without a reevaluation of compensation packages, however, convincing Silicon Valley techies to join will prove challenging.

"We're still a private company, so we can't offer stock options. But our compensation program is one of the most important issues discussed at board meetings, and we're fine-tuning it," says Kaspersky.

Stock options, at least, won't be on the cards for sometime. Kaspersky Lab was ready to go public in 2008, but the financial crisis came in the way.

"We don't see any reason to rush it now," Kaspersky says. "The company is profitable anyway and doesn't need any extra funding or back-up." He adds that the board will follow its "initial plans" once the economy recovers.

But the financial downturn hasn't dampened Kaspersky's ambitious organic growth strategy, which does not, he is eager to point out, include even a mild M&A drive.

What it does involve is the aggressive expansion of the company's enterprise segment, targeting small businesses and corporates. This lesser-known part of the company's product line carries comprehensive security software for all types of network nodes: workstations; smart phones; file and mail servers; and Internet gateways. It protects incoming and outgoing data transfer, including email, web traffic and network interactions from all types of computer threats.

Planning for the future

Securing more corporate contracts will drive long-term growth, explains Kaspersky. "Success in the consumer segment is important too, but there is little brand loyalty with home users," he says.

With businesses, he notes, it's a different story. Once they find a security system they trust, they will stick with it. And this means a more sustainable revenue stream for Kaspersky Lab, whose enterprise segment also includes service and consulting agreements.

Kaspersky Lab hopes to become the world's third largest anti-virus software company by 2011. This would mean overtaking Trend Micro, which was roughly three times as large as Kaspersky Lab in 2008. Although the Lab is already number two in the European retail market, it has so far only captured 5 pc of the global market share.

The firm's global approach, Kaspersky feels, holds the key. "For our American competitors, the domestic market is the major cash cow," he says. "But we're different. We've never been a Russian company because our major markets have always been outside Russia. We know how to behave differently in different countries and pay close attention to local features. "It's our global approach that will move us forward."
---
The other Kaspersky

At the helm of Kaspersky Lab as CEO until 2007, Natalya Kaspersky — now Chairman of the Board — has scripted the company's success story. In 1997, with no start-up capital and no big investors on the horizon, she knew that that the fledgling anti-virus company badly needed contracts from companies who could pay upfront. The turning point came when she clinched two licensing deals with German and Finnish software companies, which enabled KL to stay afloat.
In 2000, Natalya decided to focus on Europe's retail sector instead of the online market. The strategy worked. Kaspersky Lab is now the number two security solutions vendor in the European retail market, while ranking fourth worldwide. In 2007, Natalya became chairman of Kaspersky Lab. She also took up another project at her daughter's company, InfoWatch, which specialises in protecting companies' networks from internal, not external, threats.

First published in the Exceptional magazine - 
Ernst & Young 
(February-March 2010)
All rights reserved by Rossiyskaya Gazeta.