Optimism grows as unemployment remains flat, retail sales rise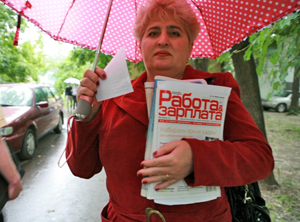 Promoter giving free brochures "Jobs. Salaries"
There is even reason for optimism: The biggest fear, that rising unemployment would undercut the expected recovery in consumer spending—the main driver of Russia's economic growth—has been beaten back thus far.

Russia's unemployment rate was flat in March, stuck at 8% of the total work force after falling in February. The Kremlin warned at the start of the year that unemployment would rise through the second half of the year, but the recovery appears to have brought the fall in jobs to a halt much earlier than expected.

The increasing security that workers are feeling is showing in spending and consumer confidence, both of which have been rising slowly in recently months.

More importantly retail sales have begun to rise again. Most Russians remain in their jobs despite the crisis. Indeed real incomes were up more than 7% in 2009; the man on the street actually has more rubles in his pocket. However, his spending power has been curtailed by the collapse in nascent consumer lending. Still, this is also showing signs of recovery after Sberbank reported an increase in lending in March for the first time in almost a year.

The economy is creaking back into life as retail sales also rose for the third month in a row, up 2.9% over the first three months of the year, the State Statistics Service said Monday. Retail sales were up only 0.9% in February.

"For the next few quarters, the downward unemployment trend and signs of a pick-up in bank lending point to stronger domestic demand, and the external growth outlook is improving," said Anna Zadornova, an economist at Goldman Sachs, according to Bloomberg.

Companies are adding workers because of mounting confidence that demand and profits will continue to improve. Manufacturers cut jobs last month at the slowest pace since September, while employment in service industries stabilized and was unchanged from February, according to purchasing managers' indexes published by VTB Capital.

VTB Capita's Aleksandra Evtifyeva said: "With the exception of unemployment, the March statistics were better than Bloomberg consensus expectations. The numbers also support our call that consumption, fuelled by income growth, will be one of the key economic growth drivers this year."
All rights reserved by Rossiyskaya Gazeta.