Mariinsky ballet in live 3D broadcast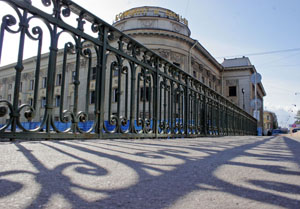 Contemporary theater has entered the age of technological innovations and the first step in this active "collaboration" was taken by the Mariinsky. On 15 April 2010 a special program was broadcast from its concert hall in 3D. According to the Artistic Director of the Mariinsky Theater, Valery Gergiev, this broadcast was made possible by the Russian corporation General Satellite. Gergiev noted that the signal was transmitted in an open format so that any owner of 3D equipment could enjoy it. Thanks to this effort, not only residents of Russia, but citizens of all of Europe, had the unique opportunity in a matter of seconds to become spectators of this live 3D gala program.
That evening spectators were given to judge everything of which the Mariinsky can be proud. The spectacular concert program was opened by Maya Plisetskaya and featured many other stars of the ballet, including Ulyana Lopatkina, Irma Nioradze, Victoria Tereshkina, Alina Somova, Igor Zelensky, Leonid Sarafanov, Vladimir Shklyarov, and Anastasia and Denis Matvienko. A special viewing of the 3D ballet program was held at the Russian Ambassador's residence in Paris as part of the Year of Russia in France. Special screens were also set up on the streets of Moscow.
The reaction of Russians to this event, however, was equivocal. On the one hand, it was cause for joy. The use of such technology means that people everywhere can enjoy these marvelous performances, regardless of where they live and how much money they have. Moreover, this will significantly raise Russia's cultural level in the eyes of foreign nations. On the other hand, true theater aficionados worried that such advances in technology might come at the expense of the beauty of certain performances, their classicism and conservation.
All rights reserved by Rossiyskaya Gazeta.