Last link in South Stream chain signs up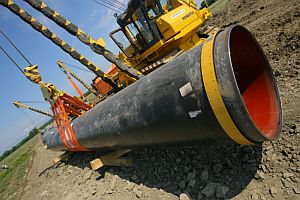 The pipeline is planned to eventually transport as much as 63 bcm of gas, or 35% of current exports to Europe, from Russia, under the Black Sea, and then through Bulgaria heading onwards to twin terminals in Italy and Austria.

The deal, signed by Russia's Energy Minister Sergei Shmatko and Austria's Economy Minister Reinhold Mitterlehner on Saturday complements similar agreements with Bulgaria, Serbia, Greece, Croatia, Hungary, and Slovenia, and gives South Stream permission to cross Austrian territory. It is also the last piece of the puzzle needed to launch the project. On Saturday, Russian officials reiterated that the pipeline will be operational by the planned date of 2015.

In tandem with the Nord Stream project that aims to carry Russian gas below the Baltic to dock in Germany, South Stream is designed to reduce dependence on transit countries such as Ukraine. Russia has encountered regular problems in its arrangements with transit nations as a result of changing political relations and Russia's bid to implement commercial terms for gas supplies to them.

At the same time, fuelled partly by concerns over Russia's growing monopolisation of European gas supplies and the interruptions to service thanks to the spats with Ukraine, the EU is attempting to construct its own pipeline to bypass Russia. The Nabucco project intends to head from south-east Europe and into Central Asia.

However, Russia has proved adept at picking off those EU member states whose cooperation it needs to deepen its hold on European supply routes. Meanwhile, it has also been active in Central Asia, trying to secure the rights to buy gas there, thus disrupting supply for Nabucco. The EU project also faces extremely stiff competition for Central Asian gas from China.

To that end, Nabucco has thus far failed to sign contracts to supply the gas it is intended to carry, a point that Russian Prime Minister Vladimir Putin rubbed in when speaking in Vienna on Saturday. "It is pointless to build the pipeline without contracts," he announced. "Name me one contract that has been signed on Nabucco. For South Stream, we could conclude contracts right now." In typically bullish fashion, Putin boasted that Russia can guarantee gas supplies to Europe for 100 years. "Similar gas reserves simply do not exist anywhere in the world," he said.

Meanwhile, according to RIA Novosti, Shmatko last week rejected once more suggestions to combine parts of the two competing projects. Italian energy giant Eni, which is a partner on South Stream, has mentioned the idea of combining some sections of the pipelines to cut costs and boost profits. Shmatko announced that the idea is not being discussed.

Next up was Gazprom CEO Alexei Miller, who told reporters that the technical and economic assessment of South Stream will be ready in February, and confirmed his belief that the launch will come in 2015. We can start counting down to its realization from today," he claimed.

Miller also spoke about an agreement signed between his company and Austrian energy company OMV, also a partner in Nabucco, saying that a "joint venture will be registered in the very near future, but the exact date has not yet been decided," adding that the JV could be registered in Austria. The contract will see OMV construct the Austrian leg of South Stream. He also claimed that French energy company EDF is due to join South Stream as a shareholder within two months.

Austrian Chancellor Werner Faymann claimed meanwhile that there is no conflict between South Stream and Nabucco, insisting that Austria's involvement in both reflects the country's desire to diversify gas supplies. But he admitted that "we don't know yet, if there will be gas supplies via Nabucco," according to a report in The Moscow Times. Austria currently gets 60% of its gas from Russia.


All rights reserved by Rossiyskaya Gazeta.