Return of the black widows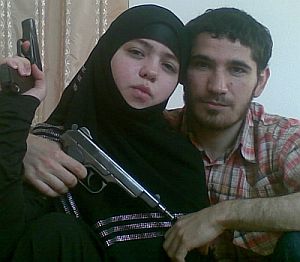 Dzhennet Abdullayeva with her husband
Experts say that the Caucasus, an area riven by territorial disputes and political unrest, is a ripe breeding ground for female suicide bombers.
When two women blew themselves up in the Moscow metro last month, killing 40 and injuring dozens more, it was a brutal reminder of how things used to be in a city that has seen hundreds killed as a result of suicide attacks.

It was also a reminder of how volatile the situation remains in south of the country.

The Moscow explosions last month brought back memories of the metro bombing which killed 41 in 2004. This time it was assumed that the women were again Chechen. But the two women were from Dagestan, the neighbouring republic to Chechnya that has seen almost daily shootings and violence in the last year.

Experts say that conditions in the Caucasus remain a ripe breeding ground for more women to become bombers, the "black widows". Massive corruption, almost 90pc unemployment and growing Islamic radicalism combined with brutal repression by law enforcement agencies have mixed a volatile cocktail in the region.

It also came to light that one of the black widows was only 17, and the other was a 28-year-old schoolteacher.

In photos released after her death, 17-year-old Dzhennet Abdullayeva was shown holding weapons with her husband, a rebel fighter from Dagestan who was killed last December. The other bomber, Maryam Magomedova, was a computer science teacher in a village school. Her father said he was shocked but also suspicious that she was married to a fighter, one who was still alive.

Both bombs could have been set off by a mobile phone. There have been cases when women were forced to be partof the operation or groomed for it, according to Yulia Yuzik, author of The Brides of Allah . A number of bombers have been childless widows.

Russia's response was to launch an offensive in the North Caucasus. Abdullayeva's mother was taken away by police and has not been released, said Yuzhik, speaking from Dagestan.

"The law has definitely received a green light to do
anything it sees as useful," says Pavel Bayev, a Caucasus expert, "to go for the friends and relatives, to investigate every link, not to stop for anything and in tight situations to take no prisoners."

An influx of money and the crackdown may have some effect on the wave of terror, but only in the short term, he added.

Female terrorism made big news with the Moscow theatre siege of 2002, when almost 1,000 people were held hostage by terrorists including women with explosive belts. One hundred and twenty nine hostages died after Russian forces pumped an anaesthetic gas into the theatre.

Since then, the Chechen war has been won and there is new-found stability. The rebels who organised some of the worst attacks have been killed, and strongman president Ramzan Kadyrov has rebuilt much of Grozny.

But violence has continued in neighbouring republics with numerous bombings and assassination attempts on officials. And even if Chechnya has more stability, activists have repeatedly warned of extrajudicial executions and disappearances committed by security forces linked to Kadyrov.

"More brutality against terrorism essentially means more grievances," Bayev said.
All rights reserved by Rossiyskaya Gazeta.