The virus warrior: a start-up tale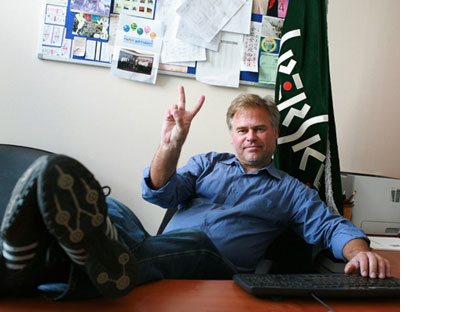 Eugene Kaspersky proves it's possible to builda Russian IT start-up from scratch
Eugene Kaspersky has built Kaspersky Lab into an antivirus software dynamo. He talks about his ambitious strategy for long-term growth.
Moscow in the early 1990s conjures up stereotypical images of underworld characters. But well beyond the streets, one young mathematician was building up post-Soviet Russia's reputation as a nation of brilliant crime fighters — cyber crime, that is.

Eugene Kaspersky began studying computer viruses in the late 1980s, when personal computers in Russia were only available at a handful of elite government institutions. Now he's built a $329 million empire getting rid of virtual bugs, designing software that sniffs them out and kills them off before they wreak havoc on his clients' systems.

Founded in 1997, his namesake company, Kaspersky Lab, is now the world's fourth largest anti-virus software company. With a whopping 76 percent growth rate between 2007 and 2008, it's also the only Russian firm that holds a place on a list of the world's top 100 software companies by revenue, coming in at number 76 in 2008.

Kaspersky Lab still lags behind American antivirus giants Norton and McAfee and Japan's Trend Micro, which had $5.8 billion, $1.6 billion and $848 million in revenues in 2008, respectively. But Kaspersky shrugs off the competition.

"We all know from sports that the winner is not the team with the largest budget, but the one that plays better," he said.

With new malware being born every second, Kaspersky said that his first priority is recruiting programmers-cum-virus busters to his already top-notch international team. Since January 2009, 25 new software engineers have signed on from Russia's second largest city, St. Petersburg.

In 1991, the year the Soviet Union collapsed and four years after he graduated with a degree in mathematical engineering from Moscow's Institute of Cryptography, Telecommunications and Computer Science, Kaspersky was offered a job designing antivirus protection programs for a Ukranian computer import company.

"I had been studying viruses as a hobby, but I never knew that I could make money from this hobby," Kaspersky said. So when the offer came up, he said yes immediately.

The project was a temporary one and, soon after it ended, a former teacher offered him a job doing similar anti-virus work for Kami, one of the first Russian hardware and software firms. The company gave him a computer and about $100 a month, and Kaspersky considered himself lucky. The unemployment rate was rising fast, so any salary was a good salary.

From the ground up


For the first few years, the team's accomplishments in developing virus detection and disinfection software flew under the radar. "Kami was selling domestically, but the software market was practically non-existent in Russia," Kaspersky recalled.

Then in 1994, Hamburg University's Computer Science Department recognized Kaspersky's tool-kit as the best antivirus scanner in the world. The phones began ringing.

Kaspersky's three-man team was soon inundated with antivirus software licensing requests from European and American computer companies, but the administrative and sales work involved in the international contracts soon became too much to handle. It was cutting into their lab time, which they couldn't afford to sacrifice.

Kami was barely breaking even at the time, and it didn't have the funds to get the team a seasoned sales director. So Natalya, Kaspersky's wife at the time, who was also from a technical background, agreed to help. She proved adept at sales and public relations, and became the driving force behind the team's decision to leave Kami and set up their own anti-virus software firm in 1997.

Between 2000 and 2005, the company launched operations in all major markets, including the United States, Japan and China. The company now employs more than 1,500 people internationally and is continuing its global expansion.

Mounting interest in Kaspersky antivirus software in the United States, a traditional Norton and McAfee stronghold, has also prompted the company to set up an office with an expert analyst team on the West Coast.

Convincing Silicon Valley techies to join without better compesnation packages will prove challenging.

"We're still a private company, so we can't offer stock options. But our compensation program is one of the most important issues discussed at board meetings, and we're working o n fine-tunin g it , e_SDRq Kaspersky said.

Stock options, at least, won't be on the cards for some time. Kaspersky Lab was ready to go public in 2008, but the financial crisis postponed the move indefinitely.

"The company is profitable and doesn't need any extra funding." He added that the board will follow its "initial plans" once the econom y recovers.

Planning for the future

Securing more corporate contracts will drive long-term growth, Kaspersky explained. "Success in the consumer segment is important, but there is little brand loyalty with home users. People don't believe it matters much which antivirus product they use."

With businesses, he noted, it is a different story. Once they find a security system they trust, they will stick with it. And this, of course, means a more sustainable revenue stream for Kaspersky Lab, whose enterprise segment also includes service and consulting agreements.

Kaspersky Lab hopes to become the world's third largest antivirus software company by 2011. This would mean overtaking Trend Micro, which was close to three times as large as Kaspersky Lab in 2008. Although the Lab is already number two in the European retail market, it has so far only captured 5 percent of the global market share.

"For our American competitors, the domestic market is the major cash cow," he said. "But we're different. We've never been a Russian company because our major markets have always been outside Russia. We know how to behave differently in different countries and pay close attention to local features. "It's our global approach that will move us forward."

First published in Exceptional Magazine - Ernst & Young (February-March 2010)


All rights reserved by Rossiyskaya Gazeta.