The war on drugs (+video)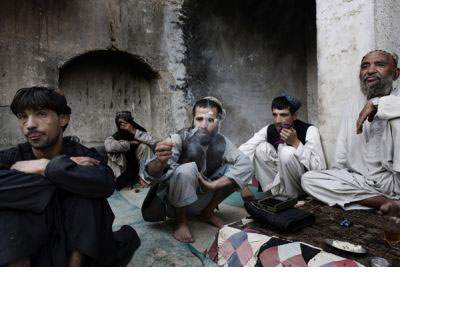 Photo by Mikhail Galustov
There are tens of thousands of drug-related deaths in Russia each year. Sveta Makhnenko could easily have been one of that number.
Sveta has vague memories of finding herself on the floor, her nose broken, her limbs numb, intolerable pain pinching every single muscle of her skinny body. As her consciousness cleared, as if somebody turned the light on, a nurse said: "This one will pass away by tomorrow morning. Let's not even bother moving her to the ward."

"I reached the absolute bottom. There was no way left to fall down further," says Sveta.

In 10 years of using heroin, Sveta, a 42-year-old former teacher of history at a Nizhny Novgorod school, turned from a sophisticated woman known for her taste and sharp intellect into a skin-and-bones shadow with a ruined life.

"I lost my teeth, my friends. I sold my flat. I was finished," she recalls. Sveta is now a recovered patient of Nizhny Novgorod Exit rehab centre. She survived, but 30,000 people in Russia died of heroin overdose last year; authorities link another 100,000 deaths to drug-related issues.

Twenty years ago, Nizhny Novgorod, Russia's fourth largest city famous for its Volga cars and 900-year-old architecture, did not know much about heroin addiction. Vodka was something people were accustomed to; heroin was a foreign word.

Today's Nizhny, just as every other Russian city, talks of heroin as the bane of the poor and unemployed. Around the staircases in the GAZ factory district, where unemployment is high because of the economic crisis, you'll find countless discarded syringes. Ask at Moskovskiy railway station, and "you will be surprised how soon somebody would offer you a shot of heroin for $2.50". Cheaper than a bottle of vodka.

The dose that almost killed Sveta was just one gramme from the 70,000 kilos of heroin that floods into Russia from Afghanistan's poppy fields each year. Little plastic bags with white powder travel across Central Asia in the handbags of passengers, spreading pain, disease and death along the way. More ingeniously, smugglers put the bags in young onions or cabbages, and let the vegetable grow around them. "Afghan drug traffic is like a tsunami constantly breaking over Russia – we are sinking in it," says Victor Ivanov, director of Russia's Federal Service for the Control of Narcotics.

"To help Russia stop being the world's biggest consumer of Afghan heroin, we have to fight this problem at its root."

This Russian position is also the root of a point of tension with the United States, which considers poppy eradication harmful to the military operation in Afghanistan, as it angers peasant growers who might then be tempted to turn to the Taliban. But it is Russia, not the United States, that is affected most directly by this decision. The minister said that at least 120,000 drug users and dealers ended up in Russia's already crowded jails. "Even in China they only put 60,000 drug criminals in jail," says Mr Ivanov. "It is useless to fight the problem just on this territory." In early March, Mr Ivanov flew to Kabul with a group of journalists, to declare that Russia is returning to Afghanistan to fight again, "this time against drugs".

A Russian role in Afghanistan became important last summer, when presidents Obama and Medvedev formed a presidential team to co-operate on a number of themes, the anti-drugs campaign being one of the major ones. Mr Ivanov met his American counterpart, Gil Kerlikowske, the director of the Office of National Drug Control Policy, and this became the channel for Russia's expanded role in Afghanistan. The two men agreed that, considering its unique experience and knowledge of the country, Russia could help find the drug dealers and land owners growing poppies. There is a common interest: opium proceeds are funding Islamic insurgency not only in Central Asian countries and in Russia's North Caucasus, but in Afghanistan itself.

In Kabul, Mr Ivanov was meeting Afghan president Hamid Karzai, the vice president Karim Khalili, plus UN and Nato officials. He delivered a message that Russia was coming back to help Afghanistan with some 140 reconstruction projects, including the Naglu power station, Salang tunnel, factories and roads.

The Russian ambassador in Kabul, Andrei Avetisyan, also confirmed Russia's intention to demolish the Science and Culture Centre, ruined by Taliban shrapnel and currently populated by homeless heroin users, in order to build a children's surgical hospital.

Former Soviet Science and Culture Centre is currently populated by homeless heroin users. Photo by Mikhail Galustov
"Let the children's hospital become the symbol for Russian-Afghanistan relations," the ambassador said.

Nevertheless, the main reason for Russia's delegation was to demonstrate the determination to fight drug trafficking. "We should be going for the very start of supply, to the moment of realisation. In this respect, the information we are going to provide is priceless," Mr Ivanov said at the meeting of a non-official international anti-drug council in Kabul.

He suggested that the International Security Assistance Force should use chemicals to eliminate poppy plantations in Afghanistan by at least 20pc, not by less than 4pc – the result of Afghanistan's anti-drug campaign last year.

The reaction to Russia's suggestions was, mostly, a shrug. Mr Ivanov's colleagues in the UN and Nato said they respected Afghanistan's elected government and that it was up to Afghanistan's leaders to decide whether to take jobs away from opium farmers or not.
All spokesmen said that it would not be productive or reasonable to destroy the poppy fields. It sounded like a hint to the Afghan authorities: it would not be democratic to take away a farmer's chance to cultivate drugs.

Mr Ivanov looked frustrated on the plane back home to Moscow: "I hear the same cliches again and again. In eight years of Nato presence in Afghanistan, the volume of drug production has increased by 40 times – that is a sign of their results.

"And the declared purpose for the Nato presence in Afghanistan does not come any closer but, on the contrary, is moving further away."

He also added that in some Nato countries, Russian anti-drugs ideas find more support than in others. "In Italy, France and Germany we hear alarmed voices that admit the problem is increasing. They treat drug traffic very seriously." While politicians and military commanders try to find common ground, back in Nizhny Novgorod thousands of heroin addicts continue to suffer. Some Russian treatment is controversial – methadone is not used and, in older clinics, patients are sometimes chained to their beds to endure the first agonising days of withdrawal.

But about 80 patients came to receive treatment at the Exit rehab centre, a chain of eight residential clinics in the barley fields and birch forests of the Nizhny Novgorod Oblast.

After suffering through the worst days of pain, Exit's patients help each other learn how to live every day as it comes and recover from psychological dependence.

They chop firewood, cook their own meals and pray together with their priest, Denis Zorin, himself a former addict.

"Heroin is the world's evil," he says.

"It is comparable to a chemical weapon, capable of destroying our society quietly without much noise."
All rights reserved by Rossiyskaya Gazeta.