Russia fears crackdown on freedom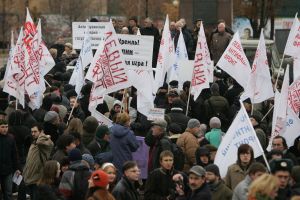 A new law that would give the FSB the power to warn people that their actions could lead to extremist activity has prompted fears it could cause further abuse when coupled with an already vague extremism law. With protesters already subject to detention for follies as random as walking on the grass or cursing in public, corruption and various poorly-worded laws create the perfect environment for intimidation, human rights activists say.
The bill, submitted to parliament by Prime Minister Vladimir Putin's government May 1, would extend warnings from registered organizations to individuals, who could face administrative penalties or even imprisonment if they refuse to comply with recommendations from the FSB to stop activity that could lead to extremism, Kommersant reported.

Vague wording

"The problem with this bill is that it doesn't spell out how these warnings will be made, who will carry them out, or what specific activities they will be made for," said Gennady Gudkov, a member of the State Duma Security Committee that will be working on the bill in the coming weeks. "It refers to a normative act of the FSB, but I think that is wrong. The normative act should be submitted to parliament as a bill."

Other than the fact that the proposal lacks concrete descriptions, Gudkov said it could potentially be a good law. "In the Soviet Union the law could keep a citizen from leaving the country, or limit him professionally. These were serious limitations."

But while rights activists fear it would make it easier for security officials to persecute or intimidate dissenters, methods for this - both legal and illegal - are already abundant.

Blowing bubbles

Some 30 people taking part in an April 18 bubble-blowing flash mob in St. Petersburg were detained for hours by police for walking on the grass last week. But more serious cases include that of journalist Irek Murtazin, who is serving an 18-month prison term for a vague charge called "inciting social hatred."

Murtazin, a former press secretary to Tatarstan's recently retired president, Mintimer Shaimiyev, wrote a post on his Live Journal blog in September 2008 saying that then 72-year-old Shaimiyev had died while on a trip in Turkey. He cited a friend in Turkey who called him with the news, which turned out to be a mistake.

Murtazin, who wrote widely about corruption in Tatarstan, was found guilty.

"Social group"

"The social group in question was called the government of Tatarstan," Oleg Orlov, director of the human rights centre at Memorial, told The Moscow News. Under the law on extremism, "a social group can mean anything. We see a lot of criminal cases launched based on this law, with the police, for instance, identified as a social group."

The law's deliberately vague wording, he said, makes it easy to persecute any whistleblower.

Troublemakers targeted

But law enforcement agencies can also act against anyone seen as a troublemaker.

Police already have any number of means to wreak havoc in the lives of potential dissenters, said Natalya Taubina, head of the Public Verdict NGO which works with victims of police brutality.

"When protest rallies or dissenters' marches are organised, people can be taken off trains or arrested for crossing the street in the wrong place," she told The Moscow News. "One foreigner was even arrested for cursing in Russian at the Social Forum in St. Petersburg in 2006." Sometimes, police officers will block doors in activists' apartments to keep them from attending events.

"I don't think it's an intimidation tactic because activists aren't normally easily intimidated," she said. "The main purpose is to keep the person from attending protests."

Orlov, meanwhile, said a list of so-called potential extremists had been drawn up by the recently-created anti-extremism department within the Interior Ministry.

Train arrests

For instance, "taking people off the train is unlawful, but it can be justified by placing certain people on a list of people suspected of extremist activity," Orlov said. The legal basis for these lists is very opaque, but using them police can follow certain individuals. In some cases, Orlov claimed, police would even plant drugs or weapons on protesters as a way of arresting them.

State Duma deputies from United Russia, Just Russia and LDPR are trying to make it more difficult to hold protests, submitting amendments last week that would make it more difficult for protesters to stage rallies. They suggest that demonstrators not be allowed to organise anything that could interfere with traffic, and allow them to advertise the event no sooner than three working days after informing city authorities.

If passed, the new amendments to the FSB law could make it easier to prosecute protestors criminally, Orlov said. Potentially, "If a person who has been warned goes to a dissenters' march he can be either fined or investigated for criminal activity."
All rights reserved by Rossiyskaya Gazeta.