US Ambassador has unique perspective on Victory Day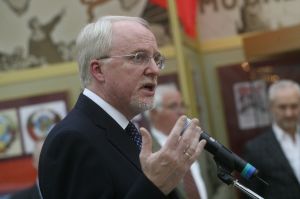 When U.S. Ambassador to Russia John Beyrle was a teenager in Muskegon, Michigan, he didn't tell a lot of folks that his Dad, for a short but indelible time, was a Red Army Soldier, and the only soldier known to have fought with the U.S. and Soviet armies. Somehow, growing up in the United States in the 1950s and 60s, it just didn't come up.
But within the intimacy of family, his father shared some profound memories of his Russian comrades, and how they fought the Nazis together for a time. During his last days with a Soviet tank battalion, Beyrle was badly wounded by a German attack and treated by Russian army doctors. "My father never forgot how Russian doctors saved his life," said Ambassador Beyrle.

Joseph Beyrle, an American soldier, showed the indomitable spirit of a Red Army soldier even before he became one: An escapee from a German prisoner of war camp, the starving 21-year-old walked across the Eastern Front. When he finally saw a Soviet tank battalion, they offered to help him get home. Instead he asked if he could join them as they fought the Nazis, using only the Russian he had learned at the POW camp. Beyrle put on a Soviet uniform and experienced battle, brutal and redemptive, that he would never forget.

On May 5, the Ambassador spoke at the opening of an exhibit in honor of his father at the Central Museum of the Great Patriotic War in Moscow's monumental Victory Park. He was joined embassy employees, representatives from the U.S. and Russian armed forces, Russian media and several military orchestras for the opening of, "Joseph Beyrle: A Hero of Two Nations."


All photos by Svetlana Taylor
Click to stop the slideshow. Click again to continue.


The Ambassador said at the exhibit that his father objected to the word hero: "My father is whispering into my ear: No, I'm not a hero! The heroes are the ones who didn't return from battle. Let's honor their memory with this exhibit."

Through photographs and memorabilia, the exhibit can't help but be a tribute to the extraordinary life Joe Beyrle led. He was reported killed in action and a funeral was held in Michiagan while he fought with the Soviets. For a short time, he was held at Moscow's Metropol hotel until the American Embassy confirmed his identity.

Like so many other veterans, Joseph Beyrle returned to Michigan a changed man. But everyday life overcame history: He took a job to support his family, but his recollections of the war did not dim. His memories would have a profound effect on his son, who became a Russia specialist and fluent Russian speaker.

"Having been through Poland and Eastern Europe, my father—and through him my entire family—understood what the cost of the war was to the Russians," his son said. "I'd say we knew more about their role in World War II than most Americans. And Americans should know more about Russia's role in the war, just as, I would say, Russians should know more about America's contribution.

Beyrle died in 2004, before he got a chance to see John become the U.S. Ambassador to the Russian Federation. But he knew his son, a career diplomat, was well on his way.
All rights reserved by Rossiyskaya Gazeta.