Russian Duma votes against freezing U.S. adoptions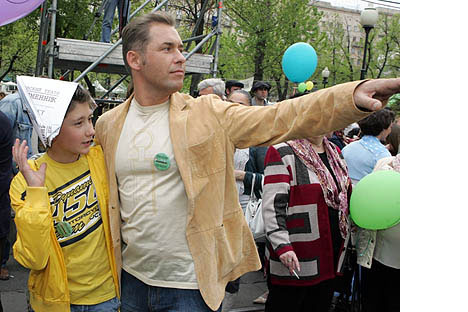 Pavel Astakhov, Russia's special presidentialenvoy for children's rights
The vote comes after 7-year-old Artyom Savelyev was sent back to Russia alone on a plane last month when his adoptive U.S. mother no longer wanted him. He arrived at Moscow's Domodedovo airport with a note claiming that he was violent, had severe psychological problems, and that the orphanage had lied about his condition.
The case has sparked outrage in Russia and led to an announcement from Russia's Foreign Ministry that all adoptions by U.S. families had been suspended.

President Dmitry Medvedev denounced the episode as a "monstrous deed" and called for an agreement with U.S. authorities specifying parents' duties in such cases and creating a system to monitor the children's treatment.

Earlier this week, Russian Education Minister Andrei Fursenko said that Russia had not suspended U.S. adoptions, which he said required legislation to be passed by the Duma or a presidential act.

Today's vote rejected a motion introduced by opposition parties that called on Russian Prime Minister Vladimir Putin to institute the adoption freeze.



Agreement To Come

The ruling United Russia party voted against the motion, saying it did not make sense given that U.S. officials are willing to discuss problems in the current system and reach a joint agreement on the way forward.

Deputy Natalia Karpovich said, "If an agreement is not signed, we will be the first to submit a freeze bill to parliament."

Pavel Astakhov, the Russian special presidential envoy for children's rights, told Russia's Interfax news agency today that a bilateral agreement on adoptions will be signed by the end of May.

Officials from Washington and Moscow held a first round of adoption talks on April 29 and are due to resume talks on May 12.

Speaking days after Savelyev arrived alone in Moscow, U.S. State Department Spokesman Philip Crowley said that the United States shares Russia's concerns about the abuse of adopted children. But he said a moratorium on adoptions would "adversely affect" Russian orphans.

"We certainly think that there are many thousands of Russian children who are not adopted by Russian families," Crowley said. "And we have the same objective that Russia has to find loving, safe, and permanent homes [for them], some of which would be here in the United States, through intercountry adoption."

According to the Russian Education and Science Ministry, some 1,800 Russian children were adopted in the United States last year and nearly 50,000 have been adopted since the early 1990s.

However, adoptions from the United States and elsewhere account for just a fraction of the well over half a million parentless children in Russian institutions.

Copyright (c) 2010. RFE/RL, Inc. Reprinted with the permission of Radio Free Europe/Radio Liberty, 1201 Connecticut Ave., N.W. Washington DC 20036.

www.rferl.org/content/Russian_Duma_Votes_Against_Freezing_US_Adoptions/2035848.html
All rights reserved by Rossiyskaya Gazeta.